Best of the best: June screenings in London
We couldn't be more proud of our screenings this June. If you're overwhelmed by choice then we're gonna make it real simple for you. Here's our favourites, in no particular order of course…
Love, Simon
Why you should watch it:
We're bringing you the movie you either never knew you needed, or always knew you needed. Can we get a "FINALLY" up in here?! It's time to give everyone a cute romance they can identify with. It's fun. It's quirky. It will also make you cry though so, like, be prepared.
Best quote:
"You get to exhale now, Simon." (That's not a river, it's our TEARS.)
Fall in love on the 13th of June at Bussey Building.
Anchorman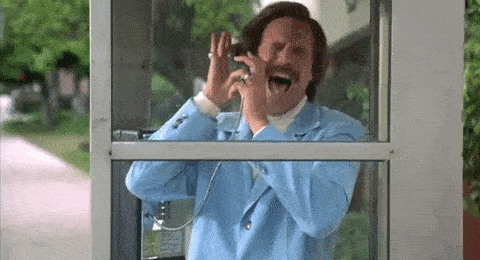 Why you should watch it:
You'll be quoting it for about three weeks 'cause it's perfect. If you haven't seen it by now, you're missing out and we feel sorry for you, tbh. It's 94 minutes of some INTENSE laughter… on a rooftop. There's nothing better.
Best quote:
(To a barking dog) "You know I don't speak Spanish."
Get your clothes from the toilet store on June 29th at Roof East.
Pretty in Pink
Why you should watch it:
Let's be real. The reason why you should watch Pretty in Pink is ALWAYS Duckie. The goofy AF best friend who is there when nobody else is?! Sign us the heck up. If you're looking for a night out to complain about how she 100% ended up with the wrong guy, we've got just the thing…
Best quote:
"It's called a sense of humor – you should get one – they're nice."
Be off like a dirty shirt on June 15th at Roof East and June 28th at Bussey Building.
Mary and the Witch's Flower
Why you should watch it:
We couldn't be prouder to be screening this subtitled version of this actual treasure of a movie. We're not one to dish out spoilers, but let's just say a certain someone becomes a certain something and it's basically the anime version of Harry Potter. Uh… wait…
Best quote:
私たちの誰も日本語を話せません
Discover where the flowers are this June 12th at Bussey Building.
Space Jam
Why you should watch it:
Wanna watch Michael Jordan floor some giant cartoons at basketball? Yeah, we do too. Out of sheer curiosity. Who even came up with this idea?! (How many drinks did they have?)
Best quote:
"I tawt I taw… I did! I did tee Michael Jordan!"
Play basketball with Bugs Bunny on June 26th at Roof East.
The Notebook
Why you should watch it:
Feel like you need a good cry? You're welcome. Cuddle up with your partner or get drunk with your other single friends, it's perfect for any occasion! Also, Ryan Gosling. Need we say more?
Best quote:
"That's my sweetheart in there. Wherever she is, that's where my home is."
Be a bird on the rooftop of Queen of Hoxton, on the 11th of June.
The Lion King
Why you should watch it:
… Okay, we were wrong. THIS is the one you should see to get those tears out of your system. Just don't let them hit your popcorn – we promise we've already salted them. We'll give a prize to anyone who acts out the whole thing in costume. Pics or it didn't happen.
Best quote:
"Asante sana squash banana, wewe nugu mimi hapana!"
Take your place in the circle of life on June 23rd at Roof East.
Pretty Woman
Why you should watch it:
Rescue and be rescued. Be taken on a journey that you'll never forget. Form deep connections within a short amount of time under some pretty weird circumstance and redefine everything you know about romance, 'cause there are no rules.
Best quote
"People put you down enough, you start to believe it."
Have the fairytale on June 6th at Queen of Hoxton.