Christmas Films That Will Get You Feeling Festive
'Tis the season to be jolly… or at least watch a load of movies filled with twinkly lights, fat guys in red and the occasional merry murder to keep things spicy (classic).
We've gone through our festive favourites and come up with this; The Ultimate Seasonal Screenings…
Elf
What's it all about?
After overhearing one of Santa's elves say what everyone is thinking (that he's not actually an elf… how did he not know?), Buddy sets off to find his father, a grumpy workaholic who thinks this man dressed in tights and a pointy green hat is basically just mental (fair). Buddy starts making friends, changing lives and saving the universe or something. Adorbs.
Why should I watch it?
Because this is one Christmas family favourite with big jingly bells on.
Bad Santa
What's it all about?
Willie T. Stokes is a cynical, thieving alcoholic mall Santa who hates children. Whilst working towards a big job with his criminal mastermind elf (as you do), he meets a Santa-obsessed groupie and an abandoned kid, with a massive house, who force him to reconsider his wicked life.
Why should I watch it?
It's a nice change of pace from that jolly ol' well-meaning, non-robbing, booze-free Santa that we're all frankly bored of. That's just unrealistic, tbh.
The Muppet Christmas Carol
What's it all about?
It's the Christmas classic adaptation you never knew you needed. With Michael Caine donning a nightgown and a Scrooge-tastic frown, he's shown the error of his greedy, selfish ways with the help of a Kermit Cratchit, his Miss Piggy wife and a Fonzo-shaped Charles Dickens. Just your average Thursday, we guess.
Why should I watch it?
Seeing all the ghosts of Christmas past, present and future in one night is a bit easier to digest when it's Kermit and co.
Home Alone
What's it all about?
Parents forget their kid in a whole other country to get terrorised by the world's worst burglars and nobody but the mum seems that arsed… It's all slapstick, irons-to-the-face, cosy, festive humour with a sprinkle of John Candy on top… and some intense childhood trauma. Keep the change, ya filthy animal.
Why should I watch it?
Because if you're not watching this at least once a day throughout all of December, your festive life is cancelled. Soz.
The Nightmare Before Christmas
What's it all about?
Leave it to Tim Burton to take the jolliest season of all and turn it into an evil, deathly tale. Love ya, boo. The dreamy Pumpkin King, Jack Skellington, happens to come across the sparkly Christmastown. Bored of his own hood, Halloweentown (real inventive), he sets about turning his spooky holiday into the bright, cosiness of Christmas.
Why should I watch it?
Sometimes Halloween is just too hard to let go of…
Love Actually
What's it all about?
This film follows several different characters including an aging rockstar, two bumbling actors mid-sex scene, and Hugh Grant as the prime minister (we'd vote for him) who all stumble their way toward the festive season. #Relatable
Why should I watch it?
There are two kinds of people: those who think Love Actually is the worst, and those who can't start Christmas without it. Pick a side.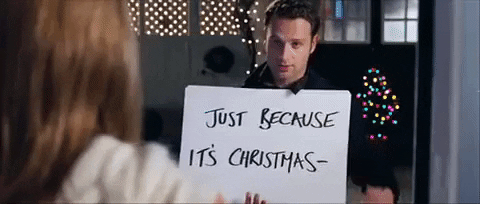 The Holiday
What's it all about?
Cameron Diaz is a neurotic LA film producer who swaps her Hollywood mansion for a cosy Surrey cottage belonging to Kate Winslet (…yeah. We don't get it, either). Both discover Christmas on the other side of the pond and – predictably – fall in love with Jude Law and Jack Black, respectively.
Why should I watch it?
It's pretty cosy viewing for those of us who don't mind a bit of festive rom-com action. Cynics need not apply.
The Grinch Who Stole Christmas
What's it all about?
A neighbourhood literally obsessed with Christmas falls into chaos when the Grinch takes his vengeance on the incredibly irritating Whos of Whoville. He steals their presents, the feast, the Who-pudding and even the roast beast. D*ck. His heart is warmed by a sickly sweet Cindy-Lou Who who eventually convinces him to return the whole lot. ('who' has lost all meaning)
Why should I watch it?
Because it'll make you feel better about hating Christmas (and small, squeaky children).
It's a Wonderful Life
What's it all about?
When George Bailey decides to commit suicide on Christmas Eve (heavy start), his guardian angel drops in to show him just how many lives he's touched and how different his community would be without him. Aw. The angel shows George lots of flashbacks to the good he's done and then shows him an alternate reality where he'd never been born.
Why should I watch it?
It's entirely life-affirming stuff and a total Christmas classic. But mostly, you'll just finally understand a lot of references people make to it.
The Polar Express
What's it all about?
A train conducted by a singing Tom Hanks is the only one we'd choo-choo-choose. Even if we have to share it with annoying kids who haven't learnt what snitches get… and if the chances of being trapped on the train while plummeting to our deaths is about 95%. That's just a risk we're willing to take.
Why should I watch it?
Snow and stuff. And creepy eeeeeeeewwwlvzz. (That's "elves" in Little Boy speak)
Meet Me in St Louis
What's it all about?
It's all a bit #firstworldproblems as the high class Smith family packs up and moves from their big house to a smaller apartment in NYC. It includes classic songs and a big dose of Judy Garland feel-good action.
Why should I watch it?
If you're ready for some sweetness in your life then you're in the right place because the songs are beautiful and it's cosy AF.

Die Hard
What's it all about?
NYC cop John McClane visits his estranged wife's LA high-rise office but everyone's been taken hostage by Alan Rickman and his terrorist mates. McClane quickly realises it's down to him to save them. Yippie-ki-yay, motherf*cker.
Why should I watch it?
There's big beef over whether this is even a Christmas film, but Bruce Willis hums 'Jingle Bells' at least twice so we say it counts.
Gremlins
What's it all about?
Inventor, Randall Peltzer decides that Gizmo (the 'mogwai') is the perfect Christmas gift for his son, Billy, and despite being explicitly told not to expose it to bright light, water or feed him after midnight, the Peltzers do like all of those things. Next thing they know, a gang of gremlins are on the kill. Shocking.
Why should I watch it?
It's an old school classic that mixes cute murderous critters with Christmas goodness.
Rudolph the Red-Nosed Reindeer
What's it all about?
There's this reindeer, who had a very shiny nose (and if you ever saw it you would even say it glows). Then all of the other reindeers started laughing and calling him names, they never even let him join in any reindeer games (pricks). But then one foggy Christmas Eve, Santa came to say "Rudolph with your nose so bright, won't you fly my sleigh tonight?" and all the other reindeers were like 'hey, Rudolph, nice nose, bro' and he was all 'too little, too late, b*tchessss.'
Why should I watch it?
Because it's Rudolph the Red-Nosed Reindeer, obv.
The Snowman
What's it all about?
Adapted from the kids book (not to be confused with the 2017 mess), it's the classic tale of a snowman that comes to life! Without being creepy or confusing at all, a loveable icy man and the little boy who made him embark upon an adventure. The next morning, the boy wakes up to find a puddle with coal eyes and everyone's heart hurts for the rest of the day.
Why should I watch it?
If you don't know all of the lyrics to Walking in the Air, we're not sure you can sit with us.
Black Christmas
What's it all about?
A group of sorority sisters receive threatening phone calls and are gradually stalked and murdered by a deranged killer living in their attic. It won't make your fingers tingle with festive magic, but it will make your whole body shudder for days. Just as good, if not better.
Why should I watch it?
Is your Christmas complete without a little paranoia? We think not.
Scrooged
What's it all about?
This modern take on Dickens' A Christmas Carol sees Frank Cross as a very successful TV exec whose cold ambition has seen him lose the love of his life. When he fires an employee, who is for some reason called Eliot Loudermilk, Frank is visited by a series of ghosts who make him re-evaluate his awful life choices. It doesn't have any muppets in it, but it's still good.
Why should I watch it?
If you can't relate to Scrooge's retro beef about paying his employees a few more pennies then heading to bed in a nightgown, this modern adaptation will do you.
Miracle of 34th Street
What's it all about?
This classic film follows Dorey and her daughter, Susan, who don't possess any Christmas spirit whatsoever as they meet Kris Kringle, a very convincing store Santa who believes himself to be the actual St Nick. When he's wrongly arrested, Kris has to prove himself to be the real Father Christmas with the help of Dorey and Susan, who are starting to believe him too.
Why should I watch it?
Because Santa is real, guys.
White Christmas
What's it all about?
This 1954 festive favourite is as sickly sweet as a pint of eggnog with a mince pie on top but that's exactly what we need after this long, long, long year. Set in a snow-free Vermont (where it's meant to be snowy AF), two ex-Army soldiers help bring in some custom to their old General's ski lodge.
Why should I watch it?
If you like your holiday films with a soppy sentiment, big dance numbers and a side of casual 50s misogyny then this is the one is guaranteed to fill you with them festive feels.