Cocktails from the Movies
Dry January's over! If you did it, well done. If you didn't… same…
To celebrate your reigning month-long sobriety, we've put together a list of some of our favourite cocktails as featured in film to make your way through. We'll have you off that wagon again in no time…
7&7 from Saturday Night Fever
Drunk by
Tony Manero (John Travolta)
How to
Pour 37.5ml blended whiskey into a tumbler and top with ice and 7UP – other brands are also available, etc, etc.
Garnish with
Attitude and a white leisure suit.
This simple fizz was apparently made popular by American soldiers in Vietnam and became one of the 1970s most commonly ordered drinks. Its name comes from the original serving of Seagram's 7 Crown whiskey and 7UP. Tony hits the Brooklyn dance floor and necks a 7&7 in between hip thrusts to keep him moving all night.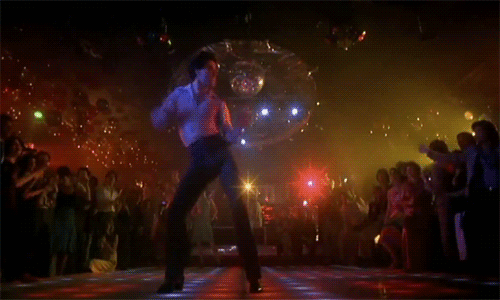 Banana Daiquiri from Up Close and Personal (1996)
Drunk by
Tally Atwater (Michelle Pfeiffer)
How to
Get 50ml white rum, 25ml lime juice, 12.5ml banana liqueur, 12.5ml sugar syrup and half a peeled banana into a blended with ice. Whizz it up (technical term) and pour into a long glass.
Garnish with
Tiki vibes, a wedge of pineapple and a cherry, and nobody's gonna look at you funny for chucking a paper umbrella in there too…
The Mountain Top Bar in the Virgin Islands claims to be the home of the original Banana Daiquiri but Tally sips these in Philadelphia after moving from Miami to be Philly's newest Channel 7 News team member.
Champagne Cup from The Grand Budapest Hotel (2014)
Drunk by
M. Gustave (Ralph Fiennes)
How to
Stir 25ml brandy, 12.5ml orange liqueur and 1 tsp Maraschino cherry syrup with ice and strain into a champagne saucer before topping with champagne.
Garnish with
A Maraschino cherry and a bevy of rich, blonde, mature ladies.
The origin of this classic drink is unknown but it goes back years and was featured in Jerry Thomas' How to Mix Drinks of 1862 where he suggests renaming it the 'nectar of the Czar' because of its popularity in Russia. M. Gustave sips this as he thinks about his triumphant return to the Grand Budapest Hotel.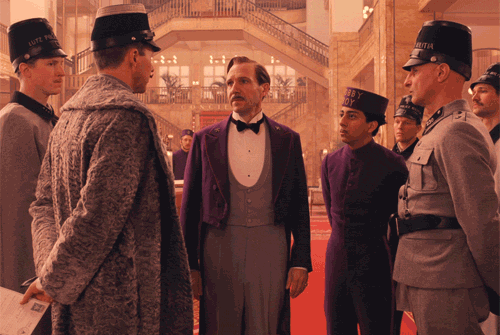 Flaming Rum Punch from It's A Wonderful Life (1946)
Drunk by
Clarence the Angel (Henry Travers)
How to
This is effort; know that before you begin. Stick 100g cloves into six oranges and bake them in an oven for half hour. Place them into a punchbowl and pour over half a bottle of cognac and half a bottle of rum followed by 130g sugar. Light the rum then sprinkle 2 pinches of cinnamon and ground nutmeg. Twenty seconds later pour in 500ml warm apple cider, 400ml hot water, 300ml orange juice and 150ml lemon juice then ladle into toddy glasses.
Garnish with
A sprinkle of nutmeg and a feeling of general despair.
Punches were first seen in the West in the early 17th century by commercial sailors to Britain from India. Back then, they warmed it by plunging a hot poker into the mix. So intense. Clarence warms up his cockles as he takes George to an alternate universe where the latter was never born.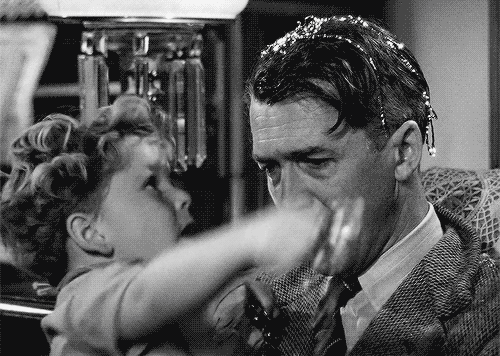 French 75 from Casablanca (1942)
Drunk by
Rick Blaine (Humphrey Bogart)
How to
Shake 37.5ml gin, 12.5ml lemon juice and 6ml sugar syrup together with ice before pouring into a champagne saucer and topping with champagne.
Garnish with
A lemon twist and a drunkard nationality.
Supposedly named after the iconic French M18977 75mm artillery gun, the first of these were made by British soldiers stationed in France from whatever they could get their hands on. Rick drinks these alongside soldiers, politicians and other exiled Americans at Cafe Americain.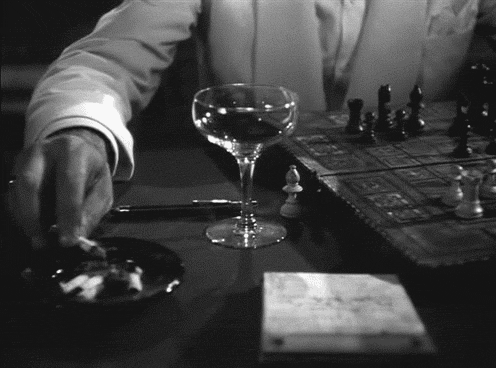 Mai Tai from Blue Hawaii (1961)
Drunk by
Chad Gates (Elvis Presley)
How to
Shake 50ml rum, 25ml lime juice, 12.5ml curacao, 12.5ml orgeat almond syrup and 6ml agave syrup together and pour into an ice-filled rocks glass.
Garnish with
A pineapple wedge and cherry on a cocktail stick and a Hawaiian shirt.
Trader Vic, aka the godfather of tiki boozing, created this in 1944. It was reportedly named after a visiting friend who he gave the cocktail to who shouted 'Maita'i roa ae!' which means 'very good!' in Tahitian. In recent years, orange, grapefruit and pineapple juices have been added to make it a sweeter, longer drink. Chad's parents love this drink, especially made with extra rum, and when he returns home from the AArmy, plans a travel business and proposes to the beautiful Maile, they all celebrate with a round of Mai Tais.
Green Creme de Menthe Frappe from Funny Girl (1968)
Drunk by
Fanny Brice (Barbra Streisand)
How to
Fill a flute with shaved ice (or just ice because who's got the time to shave ice?) and drizzle 50ml creme de menthe over the top.
Garnish with
The face of someone who isn't embarrassed to be drinking a bright green drink that smells like toothpaste.
This French mint liqueur is less popular than it was some years ago but retro is cool so whatever. Fanny drinks this after surprising her boyfriend on a cruise liner who asks her to marry him and orders her this to celebrate.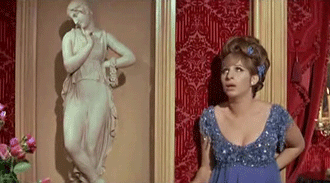 Long Island Iced Tea from Cruel Intentions (1999)
Drunk by
Cecile Caldwell (Selma Blair)
How to
Pour 12.5ml tequila, 12.5ml gin, 12.5ml vodka, 12.5ml light rum, 12.5ml triple sec, 12.5ml lemon juice, 12.5ml lime juice and 19ml sugar syrup into an ice-filled highball glass and tip with cola.
Garnish with
A lemon wedge and a bucket if you're not good with mixing spirits…
There are two stories to the invention of this; the first is that an NYC bartender invented it during a competition which required a drink using triple sec, the second is that it was created as a 'disguise drink' during Prohibition, when many cocktails were made to look like iced tea whilst being literally full to the top with booze. Cecile drinks this under the impression that it actually is iced tea but she soon feels the effect of five different spirits and realises that this is the Long Island kind.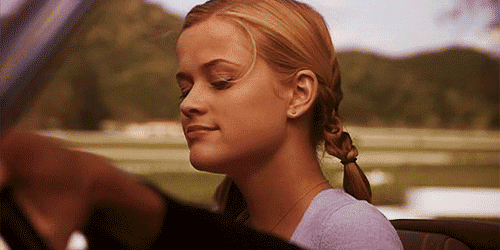 Highball from The Great Gatsby (2013)
Drunk by
Jay Gatsby (Leonardo DiCaprio)
How to
Fill a highball glass with ice and pour in 50ml whisky. Top with soda.
Garnish with
A shit load of cherries, a lemon wedge, mint and a paper straw.
This was the most popular spirit/mixer combo of the 20s and Gatsby obviously got involved. Jay drinks this in the illicit speakeasy bar hidden behind a New York City barbershop. If it's good enough for Leo…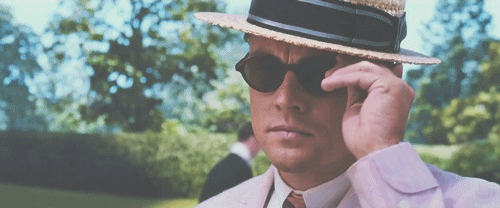 Negroni from The Roman Spring of Mrs Stone (1962)
Drunk by
Karen Stone (Vivien Leigh)
How to
Fill a short glass with ice and pour in 37.5ml gin, 37.5ml Campari and 37.5ml. Easy.
Garnish with
An orange twist and a gigolo.
Before the hipsters got their bearded chops all over this one, Count Camillo Negroni created this when asking for an Americano with the soda swapped for gin in 1919. Karen sips on this bitter mix alongside a gigolo as she grieves for her husband who has died on their plane to Rome from a heart attack.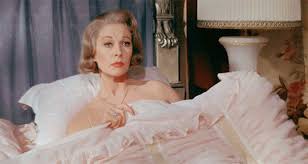 Manhattan from Some Like It Hot (1959)
Drunk by
Sugar Kane Kowalczyk (Marilyn Monroe)
How to
Stir 50ml bourbon (or rye whiskey), 25ml sweet vermouth and two dashes of Angostura bitters with ice for 30 seconds then strain into a Martini glass.
Garnish with
A cherry and a Monroe pout.
The origins of the Manhattan are unknown but it became fashionable in the 1880s. There are three variations; dry, perfect and sweet, so called dependant on whether you want dry, sweet or half and half vermouth. Sugar Kane drinks these on an overnight train with Joe and Jerry who, disguised as women, have landed places in an all-girl band.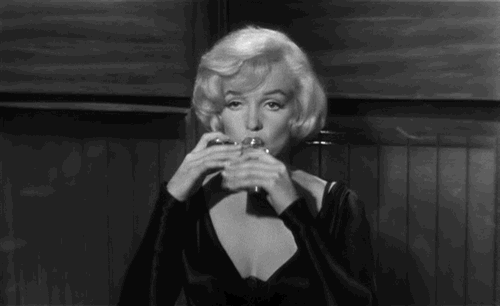 Sazerac from Live and Let Die (1973)
Drunk by
James Bond (Roger Moore)
How to
Rinse an Old Fashioned glass with 25ml absinthe then fill with crushed ice and refrigerate. Minutes later, empty the glass and then stir in 50ml rye whiskey, 12.5ml sugar syrup and 2 dashes of Peychaud's bitters.
Garnish with
A lemon twist, a bikini-clad woman who is far too young and a smug grin.
Probably mostly associated with New Orleans, it was named after the French cognac, Sazerac-de-Forge et Fils, however around 1870, cognac became very hard to come by following the epidemic of phylloxera, an accidentally imported parasite. Rye was used as a replacement and was never really swapped back. Bond sips on this, because it's not all shaken Martinis, in New Orleans before an impromptu meeting with local gangster, Mr Big.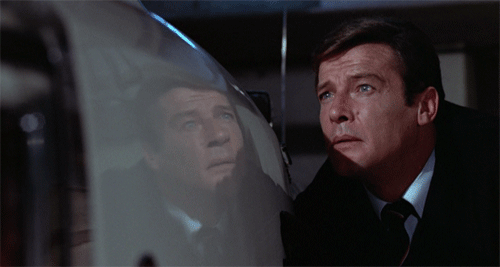 Mississippi Punch from Breakfast at Tiffany's (1961)
Drunk by
Holly Golightly (Audrey Hepburn)
How to
Shake 50ml cognac, 25ml bourbon, 12.5ml lemon juice and 12.5ml sugar syrup together with ice and pour into a long glass. Top with crushed ice and 25ml rum.
Garnish with
A slice of orange, a cherry and a cat with no name.
This very boozy cocktail dates all the way back to 1862 but some more recent recipes leave out the rum or substitute the cognac with pineapple juice. Holly mixes up plenty of these at one of her infamous parties alongside New York's wealthiest socialites and an angry Mr Yunioshi from upstairs.

Singapore Sling from Fear and Loathing in Las Vegas (1998)
Drunk by
Raoul Duke (Johnny Depp)
How to
Shake together 37.5ml gin, 12.5ml cherry brandy, 6ml Cointreau, 6ml DOM Benedictine, 8ml grenadine, 75ml pineapple juice, 25ml lemon juice and a dash of Angostura bitters and pour into a ice-filled Sling glass.
Garnish with
A pineapple slice, a Maraschino cherry, a paper umbrella and a side of mescal.
Originating from Singapore's Raffles Hotel, this 20th-century take on America's Gin Slings has many worldly flavours including British gin, Dutch grenadine, French Benedictine and tropical juices. Raoul drinks a table full of these at the Beverly Hills Hotel with mescal chasers before heading to Las Vegas with a car full of booze and hallucinogens.

Remember to drink responsibly, especially if you've been sober for the last month – this'll be the most lightweight you've been for years.
Recipes from Cocktails of the Movies by Will Francis and Stacey Marsh.