Disney: The New, The Sequels and the Remakes
A whole new world of magical movie details was laid out at Disney's annual D23 Expo – and we simply can't contain our excitement about 'em. Here's what we've learned:
Dumbo
Tim Burton is back at it again, and he's bringing Beetlejuice star Michael Keaton and Ms. Peregrine's Home for Peculiar Children lead Eva Green along for the ride. The story is set to include circus acts and the big-eared wonder himself. It was mentioned at D23 that we can expect state-of-the-art visuals, and based on what we've seen in Burton's "Alice in Wonderland", it's fair to say that we have high hopes for Burton's new film. Shock spoiler: Johnny Depp is currently nowhere to be seen… #ABurtonFirst
Keep an eye out for the live-action flying elephant in March of 2019.
Aladdin
We got one jump ahead of the breadline this weekend with a storm of special details from the upcoming live-action remake. The film is set to be directed by Guy Ritchie, and holds an authentically cultured cast: Mena Moussoud as Aladdin and Naomi Scott as Jasmine. The big reveal: Will Smith will take on the iconic role of the Genie, following in Robin Williams' footsteps. Can he fill the magic lamp like Williams? Let's wait and see.
No date announced yet, but we'd use one of our three wishes for it to come ASAP.
Incredibles 2
She's short, fabulous, and headed back to the big screen: Edna Mode is returning to tell us everything we need to know about super-fashion… NO CAPES. A HUGE announcement at the D23 Expo was the reveal of Incredibles 2, which will feature all of your favorite characters from the original. And guess who's getting some more movie action this time? Baby Jack-Jack.
Look out for the red-suited superheroes in June, 2018.
Wreck It Ralph 2: Ralph Breaks the Internet
Ralph is back, and he's giving Kim-K a run for her money. The story is said to follow the character as he transcends the world of video games and becomes immersed into the worldwide internet. The part that truly made Disney fans heads' explode was that Ralphs universe will tie together all of the Disney princesses! We can expect to see a bunch of the classics from The Little Mermaid's Ariel to Moana.
Watch Ralph break the internet in November, 2018.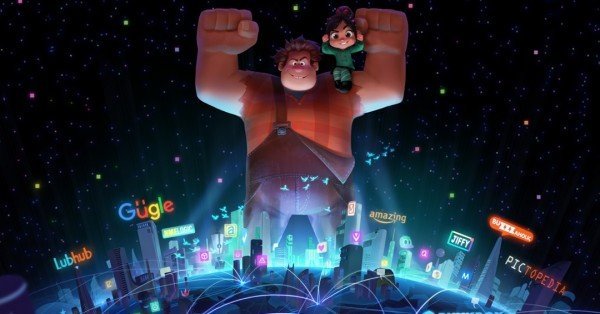 Mary Poppins Returns
A whole lotta YES was pulled out of a carpet bag at the D23 Expo, with some exclusive first looks at the new Mary Poppins Returns. Following in Julie Andrew's footsteps is Emily Blunt, who seems to flawlessly play the part of Mary Poppins. The most supercalifragilisticexpialidocious part: Dick Van Dyke will make an appearance in the film! Because we all love a terrible accent, amirite?
Set your appetite for a spoonful of sugar in December, 2018.
Frozen 2
When it comes to Frozen, the world just couldn't 'let it go'. So the wintery gang is back at it again for Frozen 2. We can expect to see all of our favorites from the original cast, including Idina Menzel as Elsa, Kristen Bell as Anna, and of course Josh Gad as Olaf! We're also anticipating some breathtaking new animated scenery, since apparently the creators are doing some heavy research into Norway, Iceland, and Finland for the film. Only just managed to get "Let It Go" out of your head? Well prepare for more catchy songs to come because Anna and Elsa are warming up for a duet of epic avalanche proportions.
Bring your snow shoes for the next Frozen adventure in November, 2019.
Olaf's Frozen Adventure
Do you want to build a snowman? Well now you don't need to because Disney's already done it… that's right, Frozen's Olaf is getting his own spinoff featurette – Olaf's Frozen Adventure! Josh Gad will take the lead yet again in the new holiday feature, which will also include Anna and Elsa. The story follows a winter in Arrendale where the princesses prepare for their first holiday together again, and Olaf comes to the rescue to bring some new holiday traditions to the table.
Gather some carrot noses, twig arms and snowman buttons for the film's release in November, 2017.
Star Wars: The Last Jedi
The force is strong with this one, and although there weren't any new trailers at the D23 expo, there were certainly teasers. The audience got a chance to see some incredible behind-the-scenes footage, giving us some clues about what's to come from everyone's favorite space warriors… there's some touching moments of interaction between the cast too… no, YOU'RE crying.
Bust out your lightsabers and finish up your drink at the Mos Eisley Cantina in December, 2017.
The Jungle Cruise
Attention all skippers! Trader Sam has made a sweet deal – one of his shrunken heads in exchange for a wild adventure featuring Dwayne "The Rock" Johnson. That's right, Disney announced the cinematic adaptation of another classic Disneyland Ride: The Jungle Cruise. The story is set to follow a journey through the jungle all aboard a boat, obviously. More details are sure to sail in soon, but for now we'll be compiling our best boat-based puns. OAR not. Sorry, not sorry.
Jump aboard and watch out for rhinos in Spring, 2018.
Mulan
Let's get down to business, because obviously Mulan is a 'girl worth fighting for'. We can expect to see Mulan in a whole new light as Disney tackles a live-action remake! The film has a long way to go, but the only announcement we're truly looking forward to is whomever will play the voice of Mushu. Maybe next D23.
When will Mulan's reflection show? To be announced, but sometime in 2019.

The Lion King
We can most definitely feel the love tonight, because a live-action Lion King is in the works and it's bound to be visually stunning! With Jon Favreau directing, we're expecting to see the same level of jaw-dropping visuals that he put into the recent remake of The Jungle Book as well as some kick-ass graphics. The best part? The cast. The OG is back, baby! James Earl Jones will reclaim his thrown as the king, Donald Glover will voice Simba, John Oliver is Zazu, and Queen B herself – Beyonce, is Disney's top pick for the voice of Nala.
Lastly, "Hakuna Matata" will be led by Billy Eichner as Timon and Seth Rogen as Pumbaa!
Start singing 'NAAAAA ZVEGNAAAAAAA' sometime in 2019.
Avengers: Infinity War
Talk about a mega-entrance, the exclusive first-looks into the new Marvel film hit D23 Expo with the force of The Hulk. We feasted our eyes on an epic teaser trailer, and trust us – you can expect the ultimate Marvel showdown in this new film because the gang's all there: Iron Man, Thor, even a blonde Black Widow and a hipster Captain America? (I mean, he had a beard). Either way, we're tingling with excitement.
Bunker down and prepare for the war of a lifetime in May of 2018.
Coco
We got to bite into a few more sugar skulls at D23 with some more sneak peaks into Coco. This Dia de los Muertos-themed Pixar film looks like a cultural and visual masterpiece. The story follows a 12-year-old Miguel, who –after attempting to steal his grandfather's guitar—ends up magically falling into the Land of the Dead (alright, it sounds a little dark, but it's Disney-coated). Here Miguel meets his extended family and begins his journey into the history of his culture and family. There's an original score to come too from Academy Award-winning composter, Michael Giacchino.
You're invited to the dead man's party in November, 2017.
Toy Story 4
The toys are back in town for a fourth outing – we're beginning to think the sequels will be going to infinity and beyond… Woody, Buzz and the gang have climbed out the toy box, all to save the one who got away – Bo Peep. While John Lasseter isn't directing this one, we can still look forward to hearing the classic voices of Tom Hanks, Tim Allen, John Cusack, Patricia Arquette, and Bonnie Hunt!
Get ready to reach for the sky in June, 2019.