Famous Words From Film
Every day is a good day to increase our vocabulary, so we've gathered up our favorite words that films made iconic/historic/classic/all of the above. Words that are non-thesaurus-able (is that a thing?) because they're down-right golden and unique. So take a seat because here's a good ol' English lesson:
Supercalifragilisticexpialidocious (Mary Poppins)
[soo-per-kal-uh-fraj-uh-lis-tik-ek-spee-al-i-doh-shuh s]
Adjective; used as a nonsense word by children to express approval or to represent the longest word in English.
Example:
Oh, supercalifragilisticexpialidocious! Even though the sound of it is something quite atrocious, if you say it loud enough, you'll always sound precocious! Supercalifragilisticexpialidocious!
Redrum (The Shining)
[red-ruhm]
No dictionary definition
Example:
Redrum … Redrum … Redrum … It's best if you write it out..preferably on a door that's conveniently located near a mirror.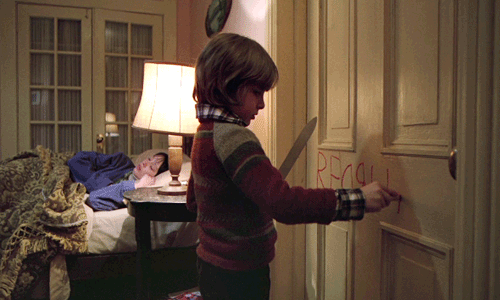 Groovy (Army of Darkness)
[groo-vee]
adjective, groovier, grooviest; Slang. highly stimulating or attractive; excellent
Example:
When you get a mechanical right hand instead of a chainsaw, it's pretty groovy. Also to add to your vocab list: "Boomstick".
Schwing (Wayne's World)
Interjection; An exclamation of delight, esp sexual; hubba-hubba
Example:
*Cassandra walks by*
*Dream woman waitress walks by*
*Literally any woman walks by…except for Stacy* SCHWING! (with hip thrust)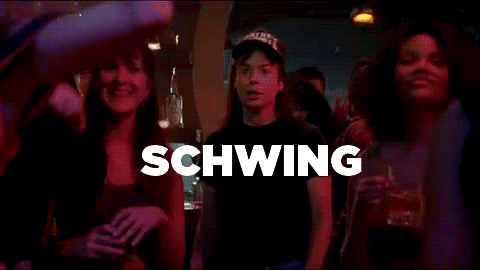 What (Pulp Fiction)
[hwuht, hwot, wuht, wot; unstressedhwuh t, wuh t]
pronoun; used interrogatively as a request for specific information
Example:
No one will master it like Samuel L. Jackson did, so don't even try. But for those curious – "SAY 'WHAT AGAIN'" and then just surround that with vulgarities.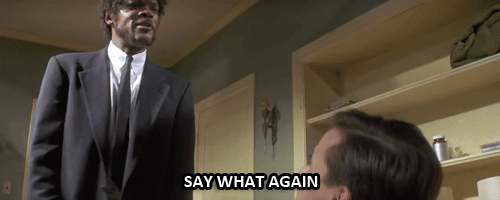 Ditto (Ghost)
[dit-oh]
noun; the aforesaid; the above; the same (used in accounts, lists, etc., to avoid repetition).
Example:
When Patrick Swayze expresses his love to you and you're like '#same' but instead you just say 'ditto'.
Yo (Rocky)
[yoh]
interjection; used as an exclamation to get someone's attention, express excitement, greet someone, etc.
Example:
YO ADRIAAAANNNNN! (Did you really think we would use any other example here?)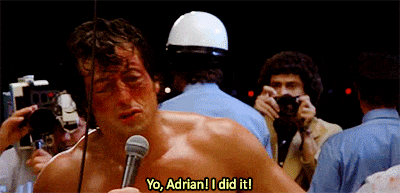 Inconceivable (The Princess Bride)
[in-kuh n-see-vuh-buh l]
adjective; not conceivable; unimaginable; unthinkable.
Example:
"HE DIDN'T FALL? INCONCEIVABLE."
Fetch (Mean Girls)
[fech]
verb (used with object); to go and bring back; return with; get:
Gretchen's definition: "Oh, it's like slang, from…England."
Example:
When the new girl shows off her bracelet, the appropriate response is "it's sooo fetch". (but really, stop trying to make 'fetch', happen)
Also to add to your vocab list: "Grool".