Films With Ultimate Friendship Goals
Bros before hoes, sisters before misters, junk before trunk, chicks before dicks… Boyfriends and girlfriends might come and go but your friends are for life. To celebrate pals everywhere, we're watching our favourite mate movies. #squadgoals
Nine to Five (1980)
Who's in it?
Judy (Jane Fonda), Violet (Lily Tomlin) and Doralee (Dolly Parton) are three colleagues who are repeatedly treated badly by the sexist, hypocritical ego that is their boss.
What happens?
Whilst working for Mr Hart, this guy who is literally the worst, Judy, Violet and Doralee each fantasise about the ways that they'd get even with him, ie murder. The following day, they mistakenly think that they've fatally poisoned him and run to the hospital and kidnap the corpse. Literally, who hasn't, amirite ladies? When they realise that their boss is very much alive, they return the stolen cadaver, hold Hart captive and begin making positive changes to the office and, consequently, their lives. Because those who kidnap together, stick together.
Best quote?
"I'm as nice as I know how to be to every single person down at that office. Everybody treats me like a bastard at a family reunion."
Best song?
Well obviously Dolly's '9 to 5'.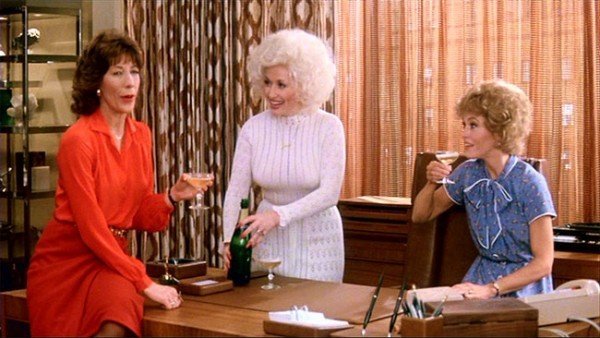 Toy Story (1995)
Who's in it?
Cowboy doll, Woody (Tom Hanks) and battery-powered space man, Buzz Lightyear (Tim Allen).
What happens?
Woody is Andy's favourite toy until Buzz comes along and Andy's all like 'woah, space is so much cooler than the rootinest tootinest wild, wild west' or something, so Woody plots to get Buzz chucked out the window. When he's pushed after him, Woody and Buzz find themselves on an adventure of friendship and personal discovery, or, y'know, as deep as two talking pieces of plastic can get.
Best quote?
"Come on, Sheriff. There's a kid in that house who needs us."
Best song?
Hello, obviously Randy Newman's 'You've Got a Friend In Me'.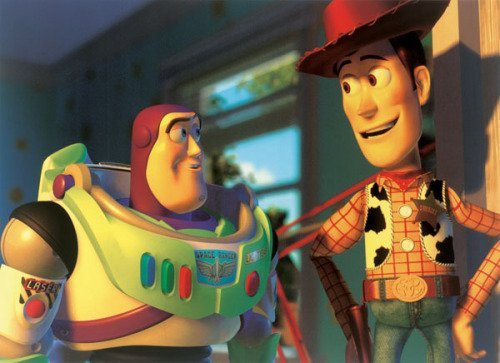 Wizard of Oz (1939)
Who's in it?
Judy Garland is Dorothy, the teenage girl who flies her house from Kansas to the technicolour mindf*ck that is Oz where she befriends a chatty but brainless Scarecrow, a heartless yet caring Tin Man and a wimpy Lion who can somehow get about entirely on his hind legs.
What happens?
Dorothy accidentally parks her house on a witch – likely excuse, Dot – and is rewarded with a pair of spangly shoes. However, the witch sister of the deceased wants the shoes and sets about getting her green hands on them. Dorothy's only option is to travel along a yellow brick road to the city's wizard who can get her home back to sepia safety. On her way, she meets the Scarecrow, Tin Man and Lion who, together, defeat the witch and get Dorothy home.
Best quote?
"Oh, you're the best friends anybody ever had. And it's funny, but I feel as if I'd known you all the time, but I couldn't have, could I?"
Best song?
'The Merry Old Land of Oz', the song where they all get makeovers like in a 90s teen movie montage.
Mean Girls (2004)
Who's in it?
Lindsay Lohan as Cady (aka Caddy) who was home-schooled in Africa until her parents decided to drop her in the middle of an American high school. The Plastics, who are basically the it-girls of the classroom, are Regina (Rachel McAdams), Gretchen (Lacey Chabert) and Karen (Amanda Seyfried).
What happens?
On Cady's first day at school she's recruited by outcasts Janis and Damien who convince her to infiltrate The Plastics and destroy them from the inside. Instead, Cady starts to get a plasticky gloss herself and is quickly pulled into their world of burn books, stealing boyfriends and Christmas slut drops. It's so fetch.
Best quote?
"Why should Caesar get to stomp around like a giant while the rest of us try not to get smooshed under his big feet? What's so great about Caesar? Hm? Brutus is just as cute as Caesar. Brutus is just as smart as Caesar. People totally like Brutus just as much as they like Caesar. And when did it become okay for one person to be the boss of everybody, huh? Because that's not what Rome is about. We should totally just stab Caesar!"
Best song?
Boomkat's 'Rip Her to Shreds'.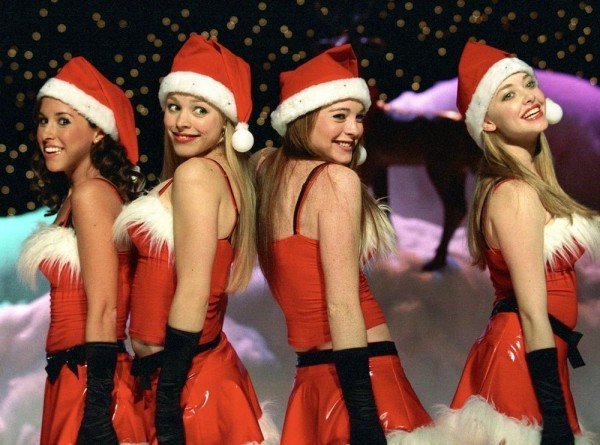 The Hangover (2009)
Who's in it?
Doug (Justin Bartha) who takes his three mates (Bradley Cooper, Ed Helms and Zach Galifianakis) to Vegas for a wild stag weekend.
What happens?
The three stags wake up the morning after the ridiculous night before and find themselves with a tiger and a baby but missing a groom, tooth and any recollection of how they got there. The three mismatched pals drag their hanging arses around town to try to find Doug in time for his wedding the following day.
Best quote?
"Don't you worry your pretty striped head, we're gonna get you back to Tyson and your cosy tiger bed. And then we're gonna find our best friend, Doug and then we're gonna give him a best friend hug. Doug, Doug, oh Doug, Dougie, Dougie, Doug, Doug! But if he's been murdered by crystal meth tweakers… well, then we're shit out of luck."
Best song?
'Can't Tell Me Nothing' by Kanye West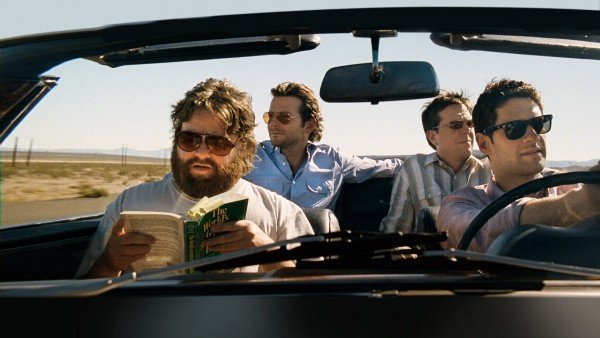 My Girl (1991)
Who's in it?
Vada Sultenfuss, 11-year-old, hypochondriac and winner of the worst name of all time is played by Anna Chlumsky and Macaulay Culkin is Thomas J. Sennett, the unpopular boy with an allergy to everything.
What happens?
This is one hell of a lesson in loss. Vada and her best friend, Thomas J. share an innocent first kiss before he starts to knock a beehive down and she loses her mood ring. He returns later to find the ring because he's the best friend ever, but the bees begin to swarm, trap him and sting him to actual death. At his funeral, Vada cries that he's not wearing his glasses and our insides hurt a bit. No, YOU'RE crying.
Best quote?
"Weeping willow with your tears running down, why do you always weep and frown? Is it because he left you one day? Is it because he could not stay? On your branches he would swing, do you long for the happiness that day would bring? He found shelter in your shade, you thought his laughter would never fade. Weeping willow, stop your tears, there is something to calm your fears. You think death has ripped you forever apart, by I know he'll always be in your heart."
Best song?
The Temptations' 'My Girl', of course.
Clueless (1995)
Who's in it?
Best friends and, like, totally the most popular girls at school, Cher (Alicia Silverstone) and Dionne (Stacey Dash).
What happens?
Cher and Dionne give the new, geeky student Tai (Brittany Murphy) a makeover turning her from an ugly ducking into an absolute babe. But with great hotness comes great responsibility and soon Tai threatens to climb straight to the top of the social hierarchy ladder, overtaking Cher and Dionne. As if.
Best quote?
"This is where Dionne lives. She's my friend because we both know what it's like for people to be jealous of us."
Best song?
The Muffs' 'Kids in America'
Stand By Me (1986)
Who's in it?
Wil Wheaton stars as the brainy Gordie, River Phoenix as leader Chris, Corey Feldman as the intense Teddy and Jerry O'Connell as the chubby one.
What happens?
This Stephen King novella adaptation follows four inseparable boys who are probably the ultimate in childhood friendship goals. Amongst tears, hugs and campfire chats, the bezzies set out to find a dead body that one them heard their brother talking about. Because what is friendship if it's not holding hands whilst you're shitting yourself?
Best quote?
"I never had any friends later on like the ones I had when I was 12."
Best song?
Obviously Ben E. King's 'Stand By Me'.
Bridesmaids (2011)
Who's in it?
Kristen Wiig is Annie, the single girl who just wants to give her best friend Lillian (Maya Rudolph) a great wedding. Rose Byrne is Helen who comes in and f*cks it all up.
What happens?
Annie and Lillian have been BFFs for years but Helen, the smug new mate, has come in and thrown shitloads of money at Lillian in the shape of Paris trips and exclusive designer wedding dresses. Annie has a tiny breakdown at the thought of losing her friend to this massive twat and destroys a giant cookie and shouts at the entire bridal party in the process. Friendships are tough.
Best quote?
"Why can't you be happy for me and then go home and talk about me behind my back like a normal person?"
Best song?
'Violet' by Hole. So angsty.
The Goonies (1985)
Who's in it?
Mikey (Sean Astin), Mouth (Corey Feldman) and Chunk (Jeff Cohen), three school kids joined by a gang of friends and Sloth (John Matuszak), a giant dude with a weird face.
What happens?
These school kids find a treasure map in their loft and decide to set out to find the loot. On their way, they find an imprisoned giant who can't talk properly and are pursued by a family of criminals who are also after One Eyed Willy's treasure (aren't we all, ladies?).
Best quote?
"Goonies never say die."
Best song?
Cyndi Lauper's 'The Goonies 'r' Good Enough'. It's so bloody eighties, it hurts.
Thelma and Louise (1991)
Who's in it?
Geena Davis and Susan Sarandon as working class friends, Thelma and Louise. Brad Pitt also stars as a sexy criminal cowboy.
What happens?
Friendship doesn't get more intense than this. Thelma and Louise plan a weekend away from their husband and boyfriend but one thing leads to another and Louise ends up shooting a guy she thought was going to rape Thelma. They decide that their only option is to go on the run where they f*ck more shit up and end up driving off a cliff in what is possibly the most radical display of friendship ever.
Best quote?
"Louise, no matter what happens, I'm glad I came with you."
Best song?
B.B. King's 'Better Not Look Down'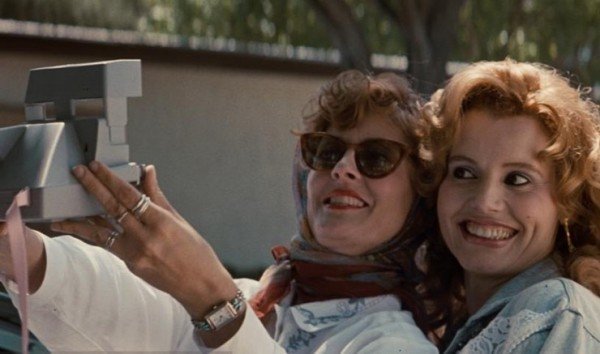 50/50 (2011)
Who's in it?
This true story sees Adam (Joseph Gordon-Levitt), a Seattle radio exec who is diagnosed with a very rare cancer, and Kyle (Seth Rogan), his goofy best mate who use the tumour to pull girls.
What happens?
Adam has developed a rare form of cancer but, instead of spending his days in bed, his best friend Kyle convinces him to use his new, erm, status to get laid. Kyle is one of those mates who is an arsehole 90% of the time but the other 10% is great enough to keep him around. Like all the best/worst bromances.
Best quote?
"I'd f*ck you."
Best song?
'Yellow Ledbetter' by Pearl Jam.
Finding Nemo (2003)
Who's in it?
Ellen DeGeneres voices Dory, the regal blue tang fish with serious memory problems who befriends clownfish, Marlin (Albert Brooks) as he searches for his son, Nemo (Alexander Gould).
What happens?
Overprotective, fearful dad, Marlin, loses his kid when he is caught in a ziplock bag by some speedy divers. Marlin embarks upon an ocean-wide quest to get his boy back with the help of the loveable Dory (I mean, she's loveable but she's legit one of those people that would do your f*cking head in if you had to be around them for more than a couple of hours. You'd avoid being on your own with her at a party). Marlin finds Dory stressful AF but as they cross jellyfish and shark-infested waters and even go all Moby Dick when a whale inhales them, Marlin soon realises that Dory is his new best mate.
Best quote?
"Please don't go away. Please? No one's ever stuck with me so long before, and if you leave… I just, i remember things better with you. I do. Look, P. Sherman, 42… 40… 2…. Argh! I remember it, I do. It's there, I know it is because when I look at you, I can feel it. And I, I look at you and… and I'm home. Please. I don't want them to go away. I don't want to forget."
Best song?
This is a mostly instrumental soundtrack (entirely so if you forget the Robbie Williams cover of 'Beyond the Sea' which is something we wholeheartedly recommend that you do) and, actually, each track is so crazy animated that they're all great. 'Fronds Like These' may be the best.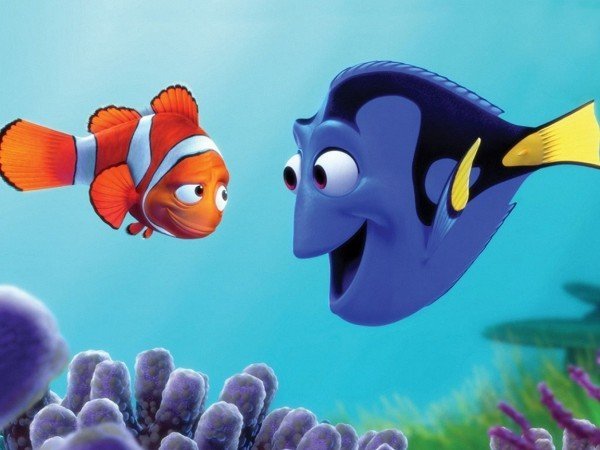 Shaun of the Dead (2004)
Who's in it?
Shaun (Simon Pegg) and Ed (Nick Frost) are lazy losers, living together and playing Xbox games with hangovers until the city is overthrown with the undead…
What happens?
Shaun and Ed are facing a zombie apocalypse and decide that their best chances of survival are heading for a pint down The Winchester with Shaun's girlfriend, her insufferable flatmates, Shaun's mum and his stepdad.
Best quote?
"He's not my boyfriend."
Best song?
Queen's 'You're My Best Friend'.
Superbad (2007)
Who's in it?
Seth (Jonah Hill), Evan (Michael Cera) and Fogell aka McLovin (Christopher Mintz-Plasse) are the three teenagers determined to lose their virginity before they graduate from high school.
What happens?
Three friends, pretty low on the social ladder, get themselves invited to a party on the promise that they'll bring booze. Filled with hopes that they'll easily lose their virginities, their plans quickly go tits up when Seth and Evan run away after thinking that Fogell is about to be arrested. Seth is then hit by a car and the pair fight over which colleges they're going to whilst Fogell becomes mates with the cops who were called to get him for underage drinking. After a relatively unsuccessful night at the party, Seth and Evan make up and confess that whatever happens, they'll be bezzies fo' life.
Best quote?
"I just wanna go to the rooftops and scream, 'I love my best friend, Evan'"
Best song?
Rick James' 'Bustin' Out on Funk'.
Pitch Perfect (2012)
Who's in it?
Anna Kendrick is Beca, the new girl at college who joins control freak, Aubrey (Anna Camp), Chloe (Brittany), Fat Amy (Rebel Wilson) and a few other randoms as the Barden Bellas, the university's all-female a capella group.
What happens?
Beca reluctantly joins the group under the dictatorship of Aubrey who wants the girls to sing the same old 80s mash up in every competition (try to deal with Ace of Base's 'The Sign' which is sung about 10 times, it'll be worth it). Beca wants the group to sing something else so that they can beat the all-male group, the Treble Makers (puntastic) and tries to convince Aubrey and the rest of the group to agree. It's total goals when they bust out an improvised singalong to 'No Diggity' and there's a bonding confessional amongst an absolutely heaving pile of Aubrey's vomit, too, if that's your kind of thing (which is weird).
Best quote?
"You guys are the best. Even though some of you are pretty thin, I think you all have fat hearts. And that's what matters."
Best song?
'Bellas Finals' and 'Pool Mashup' sung by the Barden Bellas when they finally stop singing Eternal bloody Flame.