LGBT+ films that will give you MAJOR feels
These movies make the 'GB' in LGBT stand for Genuinely Beautiful. They're either visually stunning, have a script you'll be quoting in your sleep, or have a plot that will seriously make you feel things. If you haven't seen any of these yet sort yourself out immediately. Actually GOOD representations are hard to come by so we've made it real easy for you. You'll probably want to grab a pen and paper to jot these down…
MYSTERIOUS SKIN (2004)
Why you should watch it:
Joseph Gordon-Levitt has said it's the first time a director ever called him sexy, and hired him to be sexy on screen. So, you know. There's that.
Nah, but for real, Mysterious Skin will leave you tingling for days, no, weeks. It explores Brian and Neil on their journey of self-discovery following some serious childhood trauma. Neil, a gay hustler, who is pretty emotionally stunted (but who isn't?) helps Brian, an asexual alien-obsessor, to understand his past and move forward.
What's the score?
9/10. Because the characters have depth and develop beautifully. Their sexuality isn't the only thing going on in their lives, and we totally rate that. (Like, hello, people are more than who they bang? Thanks)
Best quote:
"I hate it when they look like Tarzan but sound like Jane."
LOVE, SIMON (2018)
Why you should watch it:
It's the blockbuster movie we've all been waiting for. Singing. Dancing. Diversity. A cute, fun, EMOTIONAL ROLLERCOASTER OF A MOVIE. Your heart will for sure get ripped out, but don't worry, there's a bit on a ferris wheel that will dry your tears. We promise. It's the most unproblematic LGBT movie… probably ever. It's filled with allies who you'll remember whenever you feel unsafe. SOMEONE GET THIS GUY AN OSCAR.
What's the score?
10/10. we're here for normalising LGBT+ rom-coms.
Best quote:
"I need you to hear this: You are still you, Simon. You are still the same son who I love to tease and who your father depends on for just about everything. And you're the same brother who always complements his sister on her food, even when it sucks. You get to exhale now, Simon. You get to be more you than you have been in… in a very long time. You deserve everything you want."
BOYS/JONGENS (2014)
Why you should watch it:
How is that even a question? Boys is such an innocent and effing adorable exploration of sexuality. Two teenagers who are part of a relay race team run straight into one another's arms. Sieger and Marc share a swoon-worthy, insanely romantic kiss that will give YOU butterflies. But it's a total accident and Sieger definitely isn't gay. Definitely. Anyway, so, turns out he is actually gay (surprise!), and Marc is patient and sweet about the whole thing. What a gentleman.
This is probably an incredible film for anyone struggling with their identity and don't really know how to go about putting their feelings and thoughts into actions. It's difficult, but isn't it so worth it in the end?
What's the score?
8/10. Boys is honest and tender. Basically, it's da bomb. Completely rewatchable while you cry over a tub of ice-cream because you'll never find love as beautiful and pure as theirs.
Best quote:
"Shall we stay here forever?"
MOONLIGHT (2016)
Why you should watch it:
Why SHOULDN'T you watch this genuinely perfect movie about the struggles of growing up and trying to figure out who you are?! We cry EVERY time, and we're pretty sure you will too. Also, don't even get us started on the 'chopped and screwed' music #ICONIC
What's the score?
10/10. Thank you for this gift.
Best quote:
"At some point, you gotta decide for yourself who you gonna be. Can't let nobody make that decision for you."
BOY MEETS GIRL (2014)
Why you should watch it:
Boy Meets Girl is a pretty fantastic film about a guy falling for someone transgender, and how they both struggle. It gets all confusing but it's a serious reminder about what's important – communication. And not being a d*ck. Also, Ricky's haircut will make you die of jealousy because you could never pull off something like that. Also, that one dude from Twilight's in it.
What's the score?
7/10. We're all for being fluid and just doing whatever feels right and makes you happy. Labels are a major drag.
Best quote:
"I'm curious, I mean, does this… does this make me gay?"
"I don't think so."
"Bi-curious?"
"I don't know."
"Well, it has to make me somethin'."
"Human?"
THE WAY HE LOOKS/HOJE EU QUERO VOLTAR SOZINHO (2014)
Why you should watch it:
What's even rarer than a fleshed-out gay representation? BLIND gay representation. The Way He Looks started out as YouTube short I Don't Want to Go Back Alone (Eu Não Quero Voltar Sozinho) and won so many prizes it got made into a feature film. Four for you Daniel Ribeiro, you go Daniel Ribeiro.
The Way He Looks is so heart-warming you might have need to have a cold drink with ice to calm yourself down.
What's the score?
9/10. Leonardo literally gives the middle finger to a group of cocky homophobes. Screw you guys. We ain't takin' your shit today!
Best quote:
"If you had ever stolen a kiss from someone, how would you give it back?"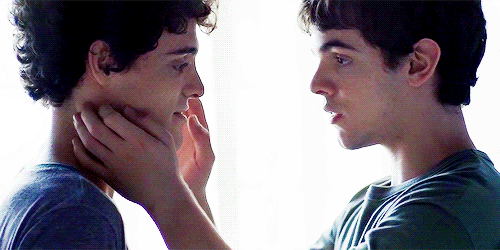 God's Own Country (2018)
Why you should watch it:
God's Own Country will teach you to love again. We promise. Farm boi Johnny is about to have his whole world turned upside-down and he doesn't even know it. Gheorghe is comin' to steal your heart. Johnny's father become hospitalised and he's left to maintain everything with only the help of the mega alluring, mysterious buff man just around the corner. You've never been supported by anyone the way Gheorghe supports his loverboy.
What's the score?
8/10. We'll be over in the corner praying for a love story like this one.
Best quote:
"It's beautiful here but lonely, no?"
FREE FALL/FREIER FALL (2013)
Why you should watch it:
If the other films haven't been RAUNCHY enough for you yet, that's about to change. You're welcome. Free Fall is a super spicy German film about two cops who just can't resist one another. And we don't want them to. Even if it complicates things with Marc's pregnant wife. Drama.
What's the score?
7/10. Not gonna lie, this movie is kinda next-level depressing, but a good depressing. The kind of depressing we can get on board with.
Best quote:
"I do not need religion, I have my own demon."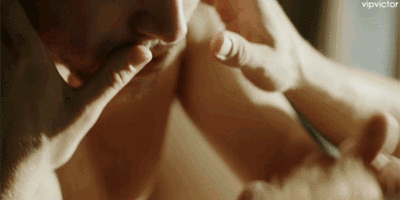 PRIDE (2014)
Why you should watch it:
Um… why wouldn't you…? Pride is SUPER feel-good, all about unity, all about embracing who you are and loving the community you're in and a TRUE story. You must have chills already. Seriously. It's a load of fun wrapped up in hilarious humour, sassy responses, and intimidating dance moves while gay and lesbian activists band together to raise money and march to support the miners.
What's the score?
8/10. This will remind you to not take yourself too seriously. Be yo' self. Treat yo' self. Enjoy yo' self.
Best quote:
"And why should gay people like me support the miners?"
"Because miners dig for coal, which produces power, which allows gay people like you to dance to 'Bananarama' 'till 3 o'clock in the morning."
LILTING (2014)
Why you should watch it:
Because it's one of the cutest things in the world? Lilting will make you turn to the person next to you and cuddle them so tightly their eyes pop out. Seeing a grown man wearing a fuzzy sweater with thumb holes should be reason enough, tbh. Richard and Kai give a whole new meaning to #goals. They're more than a goal. They're the dream. That is, until Kai dies so Richard devotes his time to helping Kai's mother, who barely speaks English FYI, understand her son's secret life to help them both grieve.
What's the score?
9/10. It will change your life. No joke.
Best quote:
"Every year on Christmas Day I get very lonely. An incredible feeling of solitude. On this day, everything has stood still, even the trees have stopped rustling, but I'm still moving, I want to move, but I have nothing to move to, and nowhere to go. The scars beneath my skin suddenly surface and I get scared. Scared of being alone."
BROKEBACK MOUNTAIN (2005)
Why you should watch it:
If you're one of the two people on Earth who haven't seen this yet, lemme give you the low-down on all the hype: Jake Gyllenhaal and Heath Ledger have a forbidden love we all pretty much understand and root for 100%. Brokeback Mountain is where they go to be free and enjoy some alone time without worrying that someone's wife might walk by and see them aggressively making out.
What's the score?
7/10. It's super steamy and intense. Make sure a box of tissues is within reach (for tears. Or whatever you want).
Best quote:
"You know, friend, this is a goddamn bitch of an unsatisfactory situation."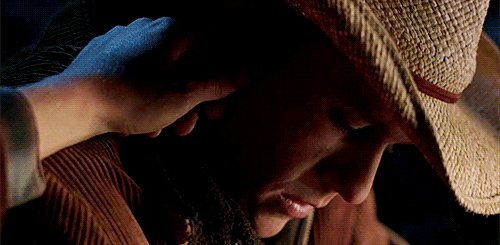 THE HANDMAIDEN/AH-GA-SSI (2016)
WHY YOU SHOULD WATCH IT:
It's described as an 'erotic psychological thriller'. What more do you want?! It's literally got something for everyone. So, Sook-Hee is a pickpocket hired secretly by a swindler posing as a Japanese Count to help him seduce Hideko to make her elope with him (hella confusing and complicated but it's mega juicy) and rob her of her fortune BUT literally nobody expected Sook-Hee and Hideko to be the ones who end up completely diggin' one another. They fight every obstacle that comes in their way. Including all the men.
What's the score?
10/10. And not a single flaw was found that day.
Best quote:
"Women love to play with fate."