Most Memorable Rum Moments in Movies
Ever wonder why you'd be hard-pressed to find a pirate without a bottle of rum? The answer is that during the 1600s, the large amount of sugar cane extracted in the West Indies had the by-product of molasses. It was first considered only a waste product – until some ingenious person figured out how to distill it into you guessed it…rum. In honor of National Rum Day on August 16th, here are some memorable rum moments in cinema! 
1. Pirates of the Caribbean: The Curse of the Black Pearl (2003)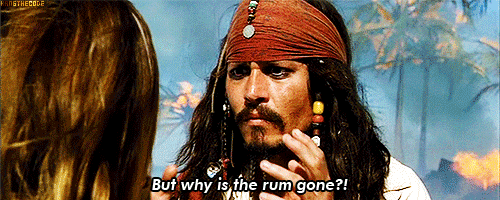 When the first of the Pirates of the Caribbean franchise was released, audiences couldn't help but fall in love with the goofy, clever and downright crazy character of Captain Jack Sparrow. In this scene from the film, Elizabeth Swan makes the unholy decision to make a signal fire with Sparrow's favorite buried treasure – his hidden rum stash. 
2. Pirates of the Caribbean: Dead Man's Chest (2006) 
Jack Sparrow's right-hand man – the usually drunk Mr. Gibbs – is a classic piece of the Pirates of the Caribbean saga. In this scene, the Black Pearl crew has run low on gunpowder, and they have to make an impossible choice…sacrifice their rum. 
3. Die Another Day (2002)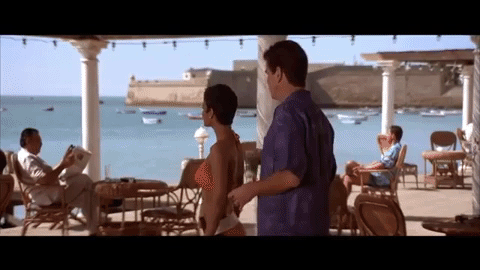 "Magnificent view." Pierce Brosnan stars as the dapper and lethal 007 in this James Bond installment alongside Halle Berry. After her character Jinx emerges from the water in Cuba, Bond's gaze is utterly fixed and he offers her a sip of his Mojito – the catalyst gesture for the film's romance. 
4. The Godfather Part II (1974)
"Uno…por favor…how do you say banana daiquiri?" This conversation while Fredo is sipping his banana daiquiri is a turning point in the film where Michael smells betrayal. It also precedes arguably the most famous scene of the trilogy where Michael gives him the kiss of death. 
5. Blue Hawaii (1961)
This film stars The King of Rock 'n' Roll as an Army veteran returned from war to work in Hawaii and enjoy the sunshine. Prior to the release of this film, a cocktail of the same name was invented in Waikiki at the Hawaiian Village Hotel in 1957 with an iconic blue color reminiscent of the Pacific. 
6. Jackie Brown (1997)
This classic Tarantino film follows the protagonist Jackie Brown, a flight attendant who gets tangled up with an arms smuggling deal gone wrong. Along the way, we meet the characters Louis Gara (Robert DeNiro) and Ordell Robbie (Samuel L. Jackson) who are plotting their next smuggling move while Gara enjoys an ice-cold Neisson Blanc rum. 
7. Captain Ron (1992) 
Kirk Douglas stars as Captain Ron Rico, a one-eyed Navy veteran who helps a middle class suburban family take their yacht to the Carribbean and beyond – until all hell breaks loose. This crazy character tends to spend more time slamming beers and sipping rum than actually navigating, which leads them face-to-face with pirates.   
8. The Rum Diary (2011)
This dramatic thriller doesn't have much to do with rum other than the title, but it also stars Johnny Depp (see what we did there), is based on the novel by Hunter S. Thompson (always worth a mention), and takes place in Puerto Rico (the rum capital of the world). This image is from the opening scene of the film, where his character Paul Kemp throws a mini fridge in a hotel room out of frustration when he can't open it. Needless to say, there are more than a few scenes in the film where Johnny Depp's character enjoys a variety of tropical beverages most certainly spiked with plenty of rum.