Movies that make your teenage self feel less alone
The Breakfast Club

Why?

Basically the movie that made everyone go 'Well, dang, John Hughes is a teen-whisperer…' Whoever you are, SOMEONE stuck in Saturday detention will speak to your soul. Whoever you are, you are not alone. Especially when it comes to hating a teacher. If you really wanna connect with someone, we'll meet you in the library with some weed and a Pixy Stix-Cap'n Crunch sandwich.
Most relatable character?
Bender (or, like, all of them, but we had to pick): Gooey Chocolate Muffin personified? Hell. Yes. A rough family life, a longing for acceptance, the constant need to seem strong even when he isn't. #HesJustMisunderstood #SometimesThoseWhoDeserveLoveTheLeastNeedItTheMost #HowDidHeDoThatThingWithTheMatch #EpicFistPump #HowManyHashtagsAreTooMany
Best quote?
"You know, I have just as many feelings as you do and it hurts just as much when somebody steps all over them." – Claire.
Inside Out



Why?
If you've ever struggled to express, understand, or control your emotions, then Inside Out will hit you hard. A young girl and her parents have moved to a place she's never been and never wanted to be. Full of depressing metaphors for a dying childhood and a life left behind (when Joy is sad that's when you know it's over), it's weird if you DON'T cry.
Most relatable character?
This probably depends on who you are as a person. If you always try to be optimistic, Joy, obvi, if the world would be a better place if only it listened to you, Disgust. If you're pretty sure the FBI agent in your webcam is always judging you, maybe Fear…
Best quote?
"I'm too sad to walk, just give me a few… hours…"
Donnie Darko



Why?
We've all experienced being extremely, extremely confused about life. We've also all experienced being manipulated by dead people into dying for them so that they survive instead. But, the most relatable part of all, has to be Donnie's deep sense of not belonging. He doesn't fall in line with everyone else, he doesn't think or feel in the two-dimensional way that everyone else around him does. His thoughts are complex and he is aware that this sets him apart.
Most relatable character?
Isn't it obvious? (You're seriously making us doubt your commitment to Sparkle Motion…) The one and only Donald ('Donnie') Darko. Who doesn't relate to knowing a lot of useless sh*t, like the sexuality of Smurfs?!
Best quote?
Basically every line of dialogue, kay?
But also: "Oh, please tell me, Elizabeth, how exactly does one suck a f*ck?" – Donnie

(Bonus, from a deleted scene: "When you fall asleep tonight… I'm gonna fart in your face." – Donnie)

The Way, Way Back



Why?
Everyone knows what it's like to struggle with self-worth and confidence, and The Way, Way Back will show you that the best way to overcome this is by getting a job at a waterpark. For real. Trust us. It works. Duncan is dragged on holiday by his mother and her boyfriend, Trent, who is the worst person in the entire universe. Duncan has to endure some seriously awful comments that Trent has to make and in an attempt to escape he gets a job at a waterpark. There, he meets Owen – the only person who genuinely gets it. Owen helps him build up his self-esteem and teaches Duncan all about making the most out of life. #ShyLivesMatter
Most relatable character?
Duncan – totally fed up with the people he's forced to be around, can't breathe without it being knocked down, can't even do the simplest things without someone having to say SOMETHING. (We feel that stress.)
Best quote?
"You gotta go your own way." – Owen
Moonlight



Why?
Nothing screams 'teenage emotion' quite like paralysing isolation (yaaay). Chiron has chained his sexuality tightly in the closet; he's grown up in a culture where toxic masculinity rules, and his mother is of no help. Through the performances of three amazing actors who portray Chiron as he grows up, we see how even someone this deeply withdrawn can find a loving hand reaching out. You will be moved. You will be inspired. You will be needing tissues.
Most relatable character?
Chiron, obvi, but which of his 'eras' means the most to you? (We can't pick, it's all just too good)
Best quote?
"At some point, you gotta decide for yourself who you're going to be. Can't let nobody make that decision for you." – Juan
Stand By Me



Why?
If you loved the brave and ruthless kids in IT as much as the rest of the world, then you're basically punishing yourself if you haven't seen Stand By Me. It's all about those times when it was you and the squad against the cold, cruel world. It will remind you why having people you trust is so important. It will remind you of when you thought you'd have the same set of friends for your entire life. It will remind you of when you let go of them.
Most relatable character?
He might not be a main character, but Davie "Lard-Ass" Hogan will forever have a special place with us. Also, he wins a prize for best revenge evah. (It involves a whole lotta pies and a whole lotta puking.)
Best quote?
"I never had any friends later on like the ones I had when I was twelve. Jesus, does anyone?" – The Writer
Ferris Bueller's Day Off
Why?
Don't know what you're doing with your life? Pretty sure everyone you know will surpass you? Could actually be unstoppable if you just applied yourself in the correct places, but you'd just rather… not? Yeah. Ferris Bueller knows that feel.
Most relatable character?
Ferris' lack of direction probably makes him relatable AF, but if you have a sibling that gets away with WAY too much you might be more on the side of his sister. #SiblingCulture
(… we're just gonna hope nobody relates to Charlie Sheen…)
Best quote?
"Life moves pretty fast. If you don't stop and look around once in a while, you could miss it." – Ferris
Matilda



Why?
Who says you can't choose your family? Effing WATCH US. Matilda's family do not deserve her, and they don't know how to treat human beings. It's like if Carrie was an original story by Disney. Sometimes revenge is necessary, and sometimes you're just made for bigger things than the life around you. And that's okay.
Most relatable character?
Matilda longs for a better life, one where she feels like she truly fits in. She's everyone everywhere.
Best quote?
"Everyone is born, but not everyone is born the same. Some will grow to be butchers, or bakers, or candlestick makers. Some will only be really good at making Jell-O salad. One way or another, though, every human being is unique, for better or for worse." – Narrator
The Edge of Seventeen



Why?
The Edge of Seventeen gets right into the heart of an insecure teen girl just trying to get through high school without a meltdown. #Relatable. This film will remind you what it's like to feel like the entire world can't keep up with you (… and like your problems are the worst thing anyone has ever had to go through, ever, in the history of life). Also, we're totally here for women writing and directing films about women. You go, Kelly Fremon Craig.
Most relatable character?
Nadine aside, Darian tugs at your heartstrings no matter who you are. He's got the weight of the world on his shoulders – the responsibilities of being the oldest in a single parent family. Nadine's problems are Darian's problems, and Darian's problems are Darian's.
Best quote?
"There are two types of people in the world: The people who naturally excel at life. And the people who hope all those people die in a big explosion." – Nadine
It's Kind of a Funny Story



Why?
Just because others have it worse, that doesn't mean you don't have it bad. Just because your life is great in theory, that doesn't mean you aren't allowed to be unhappy. A teenage boy checks himself into a mental-health clinic, where he meets Noelle who catches his eye. Wink, wink. He does what he can during his stay there to get himself feeling strong again.
Most relatable character?
Craig, the main slice. He's emotionally complicated for seemingly no reason, and that's okay. It's just who he is. #ItsOkayToFeelSad
Best quote?
"Sometimes I wish I had an easy answer for why I'm depressed, that my father beat me, or I was sexually abused. But my problems are less… dramatic than that." – Craig.
Superbad



Why?
Superbad is based loosely on Seth Rogen and Evan Goldberg's experience in Grade 12, making it THAT much better. They want to be seen as a ladies man and get smashed. There's a 0% chance things will end well, and that's what being a teenager is all about. Being chased by a bunch of weird cops before they shoot up their own cruiser. Y'know, a caj Saturday night. It's all about facing up to what is really important in your life. What will really make a difference in years to come? Who do you really want to be, and who does society want you to be?
Most relatable character?
McLovin. For obvious reasons. (Total lack of awareness about basically everything)
Best quote?
"I just wanna go to the rooftops and scream, 'I love my best friend, Evan.'" (because anything to do with a rooftop is automatically the best.)


Submarine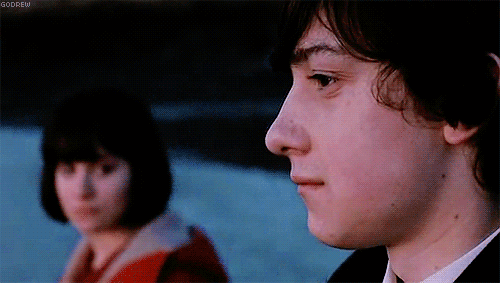 Why?
Life is hitting Oliver from every direction: school life, love life, home life, it's all a mess. He's pretty incapable of handling things, so when it all gets a bit too real with his girlfriend he does the sensible thing. He bails. Like a d*ck.
Most relatable character?
Oliver, because we all know what it's like to wish our bed would just carry us out to sea where we can hide forever.
Best quote?
"My mother is worried I have mental problems. I found a book about teenage paranoid delusions during a routine search of my parents' bedroom." – Oliver