Musical Movies of the '00s
2016 was a big year for reinventing the old school musical. La La Land, which was the 2017 Best Picture Academy Award winner for 90 seconds, brought the films of Fred and Ginger from the Golden Era to the generation of Snapchat and selfies, but did we even need it?
They might be more gritty ballads and cheese than smooth jazz and tap shoes, but we've had a good handful of musical movies that have whispered melodically at us from the big screen.
Hairspray – 2007
It's 1962 in Baltimore and Tracy Turnblad (Nikki Blonsky), an overweight high school student, wins a place in 'The Corny Collins Show'. She goes from student to celebrity overnight as well as a fashion and dance trendsetter. Despite being forbidden by her mother, Edna (John Travolta, fully dragged and fabulous), Tracy joins a protest against banning African-Americans on the show and eventually everyone is accepted, whether they're white or black, slim or overweight. Hurrah.
Best song:
'You Can't Stop the Beat' because it sometimes sounds a bit like a saccharine Proud Mary.
Mamma Mia! – 2008
Donna Sheridan (Meryl Streep) and her daughter, Sophie (Amanda Seyfried) run a hotel on the Greek island of Kalokairi. Sophie is getting married soon and wants nothing more than for her dad to walk her down the aisle, 'cept she doesn't know who he is. Neither does Donna. So she does what all normal people would do: invite three of her mum's exes (Pierce Brosnan, Colin Firth and Stellan Skarsgard) and then guesses which one might be her dad. Seems legit.
Best song:
'Dancing Queen', though we have a soft spot for 'Super Trouper' because Meryl in sequin flares is the best kind of Meryl.
La La Land – 2016
Sebastian Wilder (Ryan Gosling) and Mia Dolan (Emma Stone) meet in an all-singing, all-dancing traffic jam, and then again at a restaurant where he's playing piano, and then again at a party where he's in an 80s tribute band. After a little tap dance in the Hills, they start dating and soon, their romance travels through the seasons as the pair try to make it in Hollywood.
Best song:
It should be 'City of Stars' we guess, but 'A Lovely Night' and 'Someone In The Crowd' are up there.
Les Miserables – 2012
Unless you were already a die-hard Les Mis fan, this is probably the worst film of all time. Also, if you were already a die-hard Les Mis fan, this is probably the worst film of all time, we dunno. Tell you what we do know; Russell Crowe is not good. As Javert, the moody prison officer who's blatantly cocky just because he's wearing a ghetto fabulous pirate hat, he frees average singer slash prisoner, Jean Valjean (Hugh Jackman) from pulling a massive ship into a dock for some reason. Valjean breaks parole and uses the cash to reinvent himself as mayor, like what Trump did when he got bored of The Apprentice. Anne Hathaway also stars as Fantine, the woman who sells her hair and teeth to make money for her secret kid.
Best song:
The whole musical is a bloody song, but 'One Day More' is our favourite simply because we like singing all the voices.
Into the Woods – 2014
A baker (James Corden) and his wife (Emily Blunt), who don't seem to have been born with names but *are* cursed to be childless forever, convince the witch (Meryl Streep) who cursed them to reverse the spell. They're sent on a quest to find a white cow, yellow hair, a red cape and a gold slipper. Fortunately, cow-selling Jack of Beanstalk fame, Little Red Riding Hood, Rapunzel and Cinderella have all of these items. The baker and his wife reverse the spell and you think the film's over. It's not. It's on for another hour.
Best song:
Not 'On The Steps of the Palace' which goes on for at least 45 minutes. 'It Takes Two' is alright, though less good when you realise it's not a Crooklyn Clan cover. Also 'Agony'.
Dreamgirls – 2006
The Dreamettes, formed of Deena (Beyonce), Effie (Jennifer Hudson) and Lorrell (Anika Noni Rose), meet ambitious manager Curtis Taylor Jr. (Jamie Foxx) who turns them into world famous stars. Deena becomes the face of the band and goes on to do Single Ladies at the Super Bowl while Effie gets kicked out and ends up singing ballads in a dirty jazz club.
Best song:
"And I Am Telling You I'm Not Going' is the best because we like shout-singing along.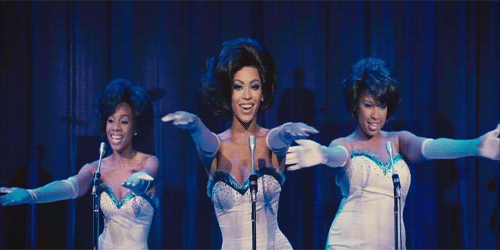 Chicago – 2002
When famous singer Velma Kelly (Catherine Zeta-Jones) murders her cheating husband and her sister slash double-act partner slash husband's bit on the side, Chicago's slickest, cocky lawyer, Billy Flynn (Richard Gere) steps in to defend her. But Roxie Hart, who's killed the guy she's been having an affair with, is thrown in the slammer and Flynn takes her case on too, stealing column inches from Velma and promising to turn Roxie into a famous singer. Because crime pays, kids.
Best song:
'Cell Block Tango', obviously.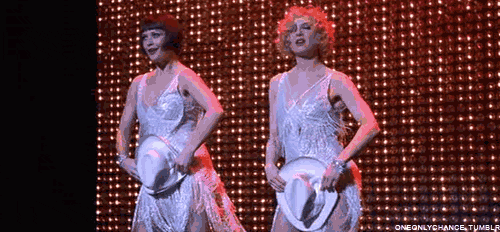 Moulin Rouge – 2001
It's the turn of the 20th century in Montmartre, Paris and young poet, Christian (Ewan McGregor) and notorious club performer, Satine (Nicole Kidman) are partying like it's 1899. Satine is promised to a Duke by the club owner under the condition that he'll fund all future performances but she and Christian keep sneaking around and singing on Parisian rooftops.
Best song:
'Elephant Love Medley', because it's a song with loads of other songs in it. Also, the feels.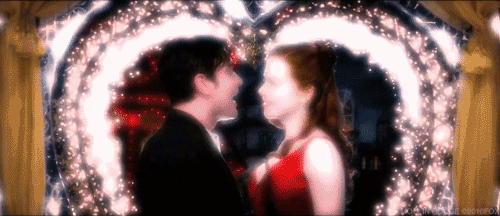 Rent – 2005
Set in 1989-1990, this massive Broadway adaptation follows the lives of seven Bohemian New Yorkers who hate their landlord (Taye Diggs) because he, erm, makes them pay their rent…. Living under the shadow of drugs, sexuality and AIDS, musician Roger (Adam Pascal) and heroin addict, Mimi (Rosario Dawson) get together, then break up, then get back together and then break up again whilst singing and slacking with their mates, anarchist professor Tom Collins (Jesse L. Martin), drag street musician Angel (Wilson Jermaine Heredia), filmmaker Mark (Anthony Rapp), lawyer Joanne (Tracie Thoms) and Maureen (Idina Menzel) who is a performance artist by day, misunderstood ice queen by night.
Best song:
Are we allowed to pick 'La Vie Boheme' instead of 'Seasons of Love'?
Annie – 2014
When Jay Z realised that one of his 99 problems was a lack of diverse casting in the 1977 musical, Annie, he got on producing this remake quicker than you can say 'the sun'll come out tomorrow' over a cool, hip hop beat. In Harlem, Annie, played by Quvenzhane Wallis, is stuck in a foster home under the dictatorship of child-hater, Miss Hannigan (Cameron Diaz). She is soon rescued by campaigning mayoral candidate, William Stacks (Jamie Foxx) as part of a publicity stunt. With the help of his assistant, Grace (Rose Byrne), he soon realises that this annoying kid might be alright to sing a few songs with and adopts her.
Best song:
Well, it's obviously 'It's A Hard Knock Life'.
Check out our playlist of all our favourite 00s musical tunes here.