Stratford's Sweetest Screenings
This July we're bringing only the very best movies to our Stratford venue, Roof East. We know that sometimes being spoilt for choice makes it hard to pick, so we're here to help give you that little extra nudge. (Side note – read on to find out which Spice Girl we are…)
Legally Blonde
Why you should watch it:
Legally Blonde releases endorphins, endorphins make you happy, and happy people don't shoot their husbands. Watch Elle become an ACTUAL legend in time for the secrets of Legally Blonde 3 to reveal themselves (who else wants to bet she became president?? #ThePresidentWeDeserve #MakeAmericaPinkAgain)
Best quote:
"If you're going to let one stupid prick ruin your life… you're not the girl I thought you were."
Get into Harvard on July 6th.
Hunt for the Wilderpeople
Why you should watch it:
It's basically a mixture of Moonrise Kingdom and Flight of the Conchords – and who doesn't want some of that in their life?! it's a sweet, mega funny film about running away from home and having a foster uncle who needs to pipe down a little.
Best quote:
"Uncle, you're basically a criminal now. But on the bright side, you're famous."
Hunt for the Normalerpeople on the 19th of July
Footloose
Why you should watch it:
ERRBADY CUT FOOTLOOSE! It's Kevin Bacon, but before all the annoying adverts. He's dancing and swinging and partying and all the old people are like "No!" (fair, he ends up doing some pretty illegal stuff…)
Best quote:
"I find myself at that moment when I have to decide. Do I hold or or do I trust you to yourselves? Let go and hope that you've understood at least some of my lessons. If we don't start trusting our children how will they ever become trustworthy?"
Kick off the Sunday shoes as part of our dance weekend on July 26th.
Ferris Bueller's Day Off
Why you should watch it:
Will we ever shut up about Ferris Bueller? Probably not. It's the epitome of living as a whole: enjoying yourself, exploring the world around you, not knowing shit about where you're heading in life, and appreciating those closest to you.
Best quote:
"Ferris Bueller, you're my hero."
Live your best life on the 15th of July.
Friday the 13th
Why you should watch it:
We saw an opportunity, and we seized it. You've never felt true fear until you've watched Friday the 13th… on Friday the 13th… outdoors. We promise we won't let anyone wearing a hockey mask in. Shit's about to go down.
Best quote:
"AAAAAAH!"
Find a place to hide on the 13th of July.
Risky Business
Why you should watch it:
Uhhh, Tom Cruise in his socks sliding across the floor? Thanks. Obviously what inspired our fave Ferris Bueller's Day Off, it's all about a cocky, high-achieving teen who invites a prostitute to the house when his parents leave town for the weekend (that escalated quickly). Someone teach the kid how to throw a normal party.
Best quote:
"I don't believe this! I've got a trig midterm tomorrow, and I'm being chased by Guido the killer pimp."
Take the old records off the shelf on the 5th of July.
American Psycho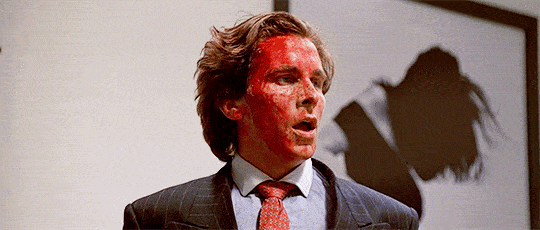 Why you should watch it:
Directed by a woman, American Psycho teaches us how to not treat them. So, if you need a lesson on what NOT to do, here is it, pal. Let's make fun of rich Americans while enjoying some good ol' gore together, the way it was intended.
Best quote:
"Duct tape. I need it for… taping something."
Return a videotape on the 12th of July.
Get Out
Why you should watch it:
We're talking horror. We're talking humour. We're talking hypnotism, and we're talking house parties. It's time to get waaay outta your comfort zone and experience something truly… uh… weird AF.
Best quote:
"This b*tch is crazy. B*tch is crazy."
Run for your life on the 18th of July.
Spice World
Why you should watch it:
There is nothing in life that a good Spice Girls song can't fix, okay? Whatever your problem is – spice up your life with possibly the best British girl group… ever? All we know is, Which Spice Girl Are You? Is the most important quiz you will take ever. (We're Ginger Spice, obvs. Hair the colour of a glorious sunset? Union Jack? In a Jacuzzi but not a floozi? 100% relatable.)
Best quote:
Does the entire soundtrack count? Thanks.
Slam it to the left and have a good time on the 14th of July.