The Best Films That Were Books First
The book isn't always better… just most of the time. We've seen car crash adaptations with important character changes, location swaps and sometimes even an entirely new ending (seriously, what's up with that?), but there are definitely a few gems out there. To prove it, we've compiled a list of some of the best book-to-film adaptations ever.
The Lord of the Rings Trilogy
Who?
This JRR Tolkien story began as a sequel to The Hobbit but turned into three volumes and went on to become one of the best-selling novels ever written. You go, Tolkien. The films were directed by Peter Jackson, starred Elijah Wood, Cate Blanchett, Orlando Bloom and Ian McKellen and were the longest films of all time (or they just felt like it, we dunno).
What?
Set in the fictional Middle Earth, Frodo the Hobbit finds himself in possession of a ring which must be destroyed because it turns whoever is holding it totally cray. Followed by the corrupted Gollum – who used to be Smeagol and is now desperate to get the ring for himself – they walk for f*cking miles to get rid of it.
When?
The first volume of the trilogy was published in 1954 and the first film was released almost fifty years later in 2001.
Jurassic Park
Who?
This best-selling sci-fi nightmare was written by Michael Crichton and divided into seven sections until Steven Spielberg came along and put them all together into one huge dinosaur bonanza starring the ever-great late Sir Richard Attenborough with Laura Dern and Jeff Goldblum. Three sequels have been made including the Crichton story Jurassic Park: The Lost World, the rubbish one nobody saw and the massive, more recent Jurassic World.
What?
Attenborough creates an island theme park which has no rollercoasters but instead hundreds of huge and murderous extinct creatures. Instead of keeping his grandchildren the hell away from death island like any normal grandfather, he invites them along. They get lost with a cynical scientist after some dude turns the leccy off, the dinos escape and unleash themselves upon this human buffet. A bumbling lawyer gets eaten by a T-Rex while he's sat on the toilet too.
When?
The novel was published in 1990 and the film was released in 1993.
Atonement
Who?
The book was written by Ian McEwan who was later accused of plagiarism by historical author Lucilla Andrews, who thought sufficient credit had not been given by McEwan who used her autobiography as a point of reference. Drama. Joe Wright later directed the film with Keira Knightley and James McAvoy as protagonists, Cecilia and Robbie.
What?
Set in 1935, this dramatic romance sees 13-year-old Briony discover an erotic love letter for her sister, Cecilia. The author of the note is soon after arrested after a false accusation from Briony and is sent to prison. Upon release four years later, he is sent off to war but returns and marries Cecilia and the pair blame Briony for their following misfortunes. Briony later becomes a writer and details the true story of Robbie and Cecilia in her last book.
When?
The film was released in 2007, six years after the book's 2001 release.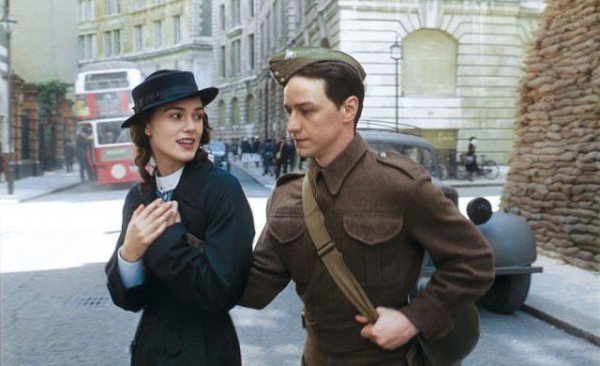 The Shining
Who?
This horror novel was written by Stephen King and based on his own experiences including his recovery from alcoholism. Stanley Kubrick later directed the film adaptation starring Jack Nicholson in the lead role.
What?
Jack takes a job as a winter caretaker for a massive hotel in the snowy arse end of nowhere. He takes his wife and kid along with him, however his son (who is conveniently telepathic) has a premonition after hearing that the previous caretaker got cabin fever and killed his family. Ten points to anyone who can guess what happens next…
When?
King's book was written in 1977 and the film was released three years later in 1980. But who are we kidding? Is the movie even based of off the book at all?
The Devil Wears Prada
Who?
Lauren Weisberger wrote this best-selling novel and the film was directed by David Frankel and starred Meryl Streep, Anne Hathaway and Emily Blunt.
What?
Meryl plays Miranda Priestly, the powerful and direct magazine editor who hires a drab Hathaway to co-assist alongside Blunt who lives on cubes of cheese and air. Hathaway suffers with possibly the most unsupportive boyfriend and friendship group who spend most of the film slagging her off for working hard. The fashion editor gives her a makeover and she goes from dowdy bargain basement frump to couture-toting queen in the space of a montage.
When?
The film was released in 2006, three years after the book's 2003 release.
James Bond
Who?
British journalist, Ian Fleming, wrote the first novel – Casino Royale – and then wrote a further eleven books and two short story compilations. Several authorized books and short stories were written by other authors after Fleming's death. The first film was Dr. No and starred Sean Connery as Bond.
What?
International man of mystery/Agent 007/closet alcoholic and habitual womanizer, Bond – whose face, body and voice seems to change intermittently like a sexy Doctor Who – repeatedly saves the country whilst simultaneously smoking 70-a-day, necking rows of shaken Martinis and bedding beautiful women.
When?
The first film was released in 1962 and a further 175,00 have followed up to present day. The first book was published in 1953.
Schindler's List
Who?
Thomas Keneally wrote the Booker-Prize winning historical novel Schindler's Ark, though it was titled Schindler's List in the US from its initial release. Steven Spielberg directed the film under the US name and it has since been frequently placed in '100 Greatest Films Ever' lists everywhere. Liam Neeson played the title role.
What?
Set in Krakow during World War II, unlikely hero Oskar Schindler tries desperately to save the lives of those in concentration camps after witnessing a mass killing.
When?
The book was released in 1982 and the film came eleven years later in 1993.
Bridget Jones's Diary
Who?
This chick-lit novel was written by Helen Fielding and the film was later directed by Sharon Maguire and written by rom-com king Richard Curtis with Andrew Davies and Helen Fielding. Taking starring roles were a "fat" Renee Zellweger as Bridget with Colin Firth and Hugh Grant as her prospective boyfriends. A further two books and films were made following the success of the first.
What?
Bridget is single, overweight, shit at her job and certain that she's going to die alone in her flat which we're all meant to believe she lives in even though it's a pretty big one-bed flat with a balcony in Borough Market. Her boss, Daniel, fancies her but so does her family friend, Mark. They have a fight and Bridget has to pick one of them to live happily ever after with in her ridiculous flat.
When?
The first book was published in 1996 and the film was released in 2001.
Breakfast at Tiffany's
Who?
Truman Capote wrote the novella Breakfast at Tiffany's and the film was later adapted by Blake Edwards with Audrey Hepburn taking the lead role.
What?
The story follows Holly Golightly, the naive and eccentric socialite, as she grows closer to her new neighbor, Paul Varjak, but doesn't once actually have breakfast at Tiffany's.
When?
The book was written in 1958 and the film was released just three years later in 1961.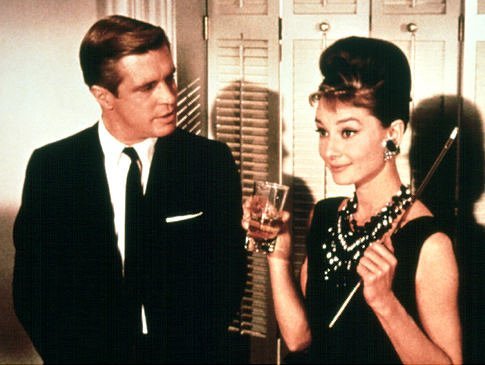 The Harry Potter Series
Who?
Written by JK Rowling, wrote the first story in a baby feeding cubicle on the back of some wet wipes or something. A further six books were written and Chris Columbus came along to direct film adaptations of the first two. Alfonso Cuaron, Mike Newell, and David Yates directed the following six respectively. The books are now the best selling series of all time.
What?
An orphan boy finds out he's a wizard (he's a what?) before being taken to Hogwarts by a massive Robbie Coltrane, no questions asked. There he meets Ron, his useless ginger mate, and Hermione who straight up saves their wizard asses on the reg from various baddies that try to kill Harry, one of which who, for literally no reason, doesn't have a nose. Side note: Neville Longbottom is hot now.
When?
The first book was released in 1997, the last – Harry Potter and the Deathly Hallows – was released in 2007. The first film was released in 2001 and the final part of the last in 2011.
Charlie and the Chocolate Factory
Who?
This world famous story was written by Roald Dahl and said to be inspired by his own experiences with chocolate companies as a kid. The film has seen two film adaptations, the first starring Gene Wilder as the beloved title character in the film, Willy Wonka and the Chocolate Factory, which Roald Dahl hated more than greedy kids. A more recent adaptation directed by Tim Burton – so obviously starring both Johnny Depp and Helena Bonham Carter – showed a darker side to the popular kids story.
What?
Charlie finds one of the five exclusive golden tickets to spend a day at the top secret chocolate factory of Willy Wonka. Accompanied by his Grandpa Joe, who up until about five minutes ago couldn't walk, they tour around the factory as the other kids get gradually bumped off.
When?
The book was published in 1964. The first adaptation, Willy Wonka and the Chocolate Factory, was published soon after in 1971 and the mind-bending Tim Burton version much later in 2005.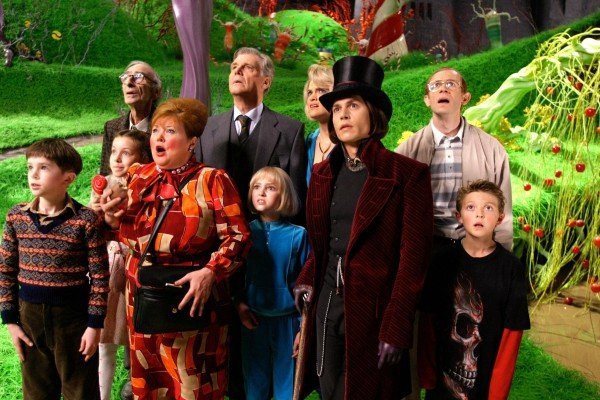 The Color Purple
Who?
The book was written by Alice Walker and went on to receive the Pulitzer Prize for Fiction and the National Book Award for Fiction. The film was directed by Steven Spielberg and starred Whoopi Goldberg in her first film appearance. The story has been listed as a very challenging tale due to explicit violent content.
What?
Set largely in 1930s rural Georgia, the story focuses on African-American women as they address their extremely low position in social culture.
When?
The book was released in 1982 and the film was then released in 1985.
The Wizard of Oz
Who?
Written by L. Frank Baum, The Wonderful Wizard of Oz was then adapted – with 'Wonderful' lopped off – into the famous film starring Judy Garland, Terry the Dog and the Singing Midgets.
What?
A girl and her dog fly from the sepia town of Kansas to the magical technicolor land of Oz where she is awarded a pair of ruby shoes for accidentally parking her house on a wicked witch. She makes friends with a brainless scarecrow, a heartless tin man and a cowardly lion as they sing their way to meet a wizard who will make all their wishes come true… even though they're told by the actually useless wizard when they get there that they actually had what they wanted the whole time. Bastard.
When?
The book was published in 1900 and the film was released almost four decades later in 1939.
The Green Mile
Who?
The Stephen King novel was initially published in six volumes, the first called Two Dead Girls, before being released in a single volume the following year. Frank Darabont went on to direct the film starring Tom Hanks, and Dabbs Greer in what would be his final film.
What?
Not the be confused with 8 Mile, The story sees death row supervisor, Paul Edgecombe, as he meets an unusual prisoner who appears to have unexplainable healing and empathetic abilities. A loooot of weird shit happens, and everyone just kinda goes along with it.
When?
The single volume novel was released in 1996 and the film was later released in 1999.
The Notebook
Who?
This romantic novel was written by Nicholas Sparks and is based on a true story. The book was then turned into a film starring Rachel McAdams and Ryan Gosling – who was cast because he 'wasn't very good looking', presumably by someone without eyes. It has also been adapted as a Bollywood film called Zindagi Tere Naam.
What?
An old man is seen reading his elderly, unwell wife a romantic story. It is set in 1940s South Carolina and follows Noah and Allie – who is an heiress and totally out of his league – fall in love. Her parents aren't happy because she's a stone cold ten and he's, at best, farm boy seven so they vow to keep the young lovers apart. Still, he writes to her everyday but his letters are intercepted by her b*tch of a ma'. Years later, once Allie is engaged to some other guy, the pair reunite and decide to stay together.
When?
The novel was published in 1996 and was later released in 2004.