The Wickedest Witches of Cinema
If you're the type of person who always has Halloween in their heart (same), then this one's for you. From ghastly ghouls to clowns that just aren't funny to seriously sketchy doctors, we've seen some insane things (like, literally, we're permanently scarred) but there's one horror villain that straight up in our opinion doesn't get enough love.
You've guessed it. The Witch.
In no particular order, we've put together a list of our favourite witches, so grab a broom 'cause you're in for a ride…
The Blair Witch Project
Wicked rating:
10/10
Why?
It's not possible to have a list like this without including the worst project known to man. It beats class presentations. If your idea of a nice weekend is hiking in the woods, then fine – but in the dark? Well, we're not really sure what's wrong with you #CantRelate. This witch in this film is literally so evil that she doesn't even need to be in the film for approx 99% of it. 
That's some real big witch energy.
Lucky for you, we're screening on our rooftop! Catch it on the 14th of September at Bussey Building… just don't get lost on the way.
Hocus Pocus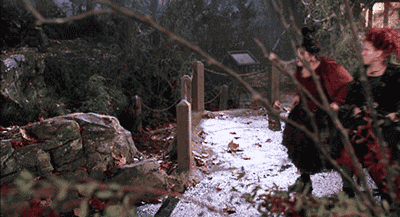 Wicked rating:
8/10
Why?
It's really just a load of hocus pocus. Speaking cats, cute ghost boys, witches who really know how to make a bop?? Also, #FriendshipGoals – they really took a crazy long nap together, then woke up, went to a super lit party, tortured some kids, then went back to sleep. Iconique. We're not saying it should be mandatory for ALL witches to sing… but it really does add a lil suttin' suttin'…
The Wizard of Oz
Wicked rating:
6/10
Why?
Are you a good witch or a bad witch? Whichever side you're on, you have to admit that both witches really bring their fashion A-Game (flying monkeys are an overlooked accessory). When it comes to witches, very few are as memorable as these ones. Ding dong, the witch is….
Harry Potter 
Wicked rating:
9/10
Why?
The baddest witch of them all… Hermione is out here punching noses and time travelling like it's nobody's business. Which it isn't (or should we say… 'witch, it isn't'). Let's take a second to appreciate that Harry actually wouldn't have actually got anywhere without Hermione by his side and that actually she's the real hero. Thanks. 
The Witch
Wicked rating:
9.8/10
Why?
In 1630 New England, sh*t went down. If you've ever wanted to live on a farm, 10/10 would recommend avoiding this one. If Children of the Corn wasn't enough to make you wanna avoid nature (and children), we've sure got something for you! Their whole family is destroyed by black magic… but we all know that black magic is 2nd to Monopoly when it comes to tearing people apart.
The Witches
Wicked rating:
6/10
Why?
'Cause just one witch isn't as scary as multiple. We're in England yet again (seriously, just @ us next time) where Roald Dahl's concept (that's really weird and gross) has been brought to life.  A boy decides to spy on a convent (yeah, we know, these movies always start with someone being stupid) and gets turned into a mouse. Now, he has to fight for his lil mousey life. Adorable.
Rosemary's Baby
Wicked rating:
5/10
Why?
Are you trying to convince your s/o to drop the whole 'baby' idea? Well, have we got the thing for you! For the low, low price of your sanity, innocence and all of your optimism, Rosemary and her baby will make you rethink life as you know it. Her baby is evil and we're not talking plug-sockets-that-are-just-out-of-reach evil, we're talking someone-not-covering-their-mouth-when-they-cough-on-public-transport evil.
Bedknobs and Broomsticks
Wicked rating:
1,000,000,000,000/10
Why?
Okay… hear us out. As far as witches go, she's a queen. A QUEEN. She uses her powers to fight Nazis. Yeah. Suck on that, all you fake hardcore witches. You're not hardcore until you live hardcore. Also, if you didn't spend five hundred hours as a kid trying to get your bed to fly, then we're pretty sure you're about to.