Top 10: Brad Pitt
Everyone loves Brad Pitt, and even if you don't you probably do and you just haven't realised it yet. He switches from rugged manly man to sweet dreamboat in a blink, and it's a ride we're always eager for. Whatever his next project ends up being, we're always behind him.
So, here's our top 10, in no particular order.
Fight Club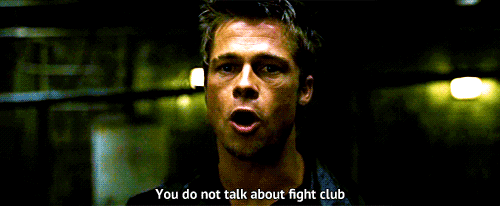 You know the quote even if you don't know the film. And you're probably kinda sick of hearing people quote it. We get it! You're edgy! Fight Club is very much an intense roller coaster of frightening philosophy that is just OTT. (That doesn't stop Fight Club being a masterpiece and studied in schools everywhere, though. So who's the real winner?)
Behind the scenes:
Film trivia:
Basically EVERY time either Marla or Tyler finish a cigarette they don't put it out. They just throw it away. Because they have to be extra. Obviously. #Sassy
Mr. & Mrs. Smith
The real reason why everyone loves Mr. & Mrs. Smith is simple: Brad Pitt with a tie around his wrist. Implying Angelina Jolie had him tied up. Let that sink in. This movie is super saucy and we basically love every second of Angelina kicking ass.
Behind the scenes:
Film trivia:
The scene when Brad Pitt trips up, goes into a fence and accidentally fires his gun? Yeah. Unplanned. His reaction and "Oh dear God" were both genuine. It's suddenly a LOT funnier.
The Curious Case of Benjamin Button
The Curious Case of How Brad Pitt's Face Got That Way. Like, really?! His face is kind of distracting from the heartbreaking story of Benjamin Button, but that won't stop us from crying every five seconds. WHY CAN'T THEY JUST BE HAPPY?!
Behind the scenes:
Film trivia:
Brad Pitt himself has said that makeup took roughly 5 hours each day. (Why is he complaining? That's average.)
Se7en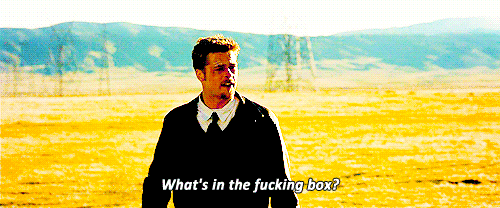 Considered one of the most scariest films evah, we get chills whenever we think about it. Se7en is definitely not for the faint of heart, its nastiness can be seen from miles away… and we're not complaining. Bring on the gore.
Behind the scenes:

Film trivia:
All the bugs on set are real… and a cockroach expert used Vaseline to keep them there. *shudder*
12 Monkeys
12 Monkeys is one of the movies which is just hard to watch. Bruce Willis goes back in time to meet himself (AGAIN), and Brad Pitt is there, because in a world where most people have been killed by a deadly disease he's one of the few that deserve to survive. #LongLiveBradPitt
Behind the scenes:

Film trivia:
At first, they were going to use the tagline "The future is in the hands of a man who has none." and if you imagined a dude with no hands, you're exactly why they didn't use it. (He has no FUTURE not no hands!)
Interview with the Vampire
Not to be confused with Interview with a Vampire, which doesn't exist. (Awkward, right?) Interview With the Vampire is steamy as heck, and while these vamps don't sparkle in the sun, Brad Pitt's Louis will make you swoon twice as much.
Behind the scenes:
Film trivia:
The novel had gay subtext which was omitted from the film. We want to know why. Cowards.
Inglorious Basterds
We don't know how this film became more relevant today than it was when it first came out, but we're pretty sure if anyone wanted to form a real Inglorious Basterds group nobody would complain.
Behind the scenes:
Film trivia:
When they are treating Bridget's bullet wound, you can see two dead dogs in cages with holes behind her. Initially, the group was meant to shoot the dogs to get the vet to care for her. MONSTERS.
Ocean's Eleven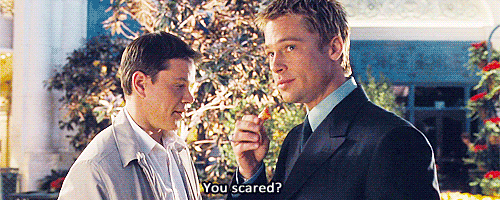 This isn't your everyday heist movie, this is a cool heist movie. It's safe to say that the next time your squad decides to rob three casinos in LA, don't. Also, don't trust a guy called Bruiser. We would've thought that'd be obvious.
Behind the scenes:
Film trivia:
Julia Roberts was sent the script with $20 bill attached to it – along with a note from George Clooney which said "I hear you're getting 20 a picture now", since she had become the highest paid actress at $20 million per film. The jokes didn't end there. The cast frequently pranked her. We expect she did a lot of smacking.
Snatch
What do we learn from Snatch? Don't trust anyone. Especially people with accents you just don't get. Snatch is hilariously quotable, and just through-and-through entertaining. Plus, Brad Pitt is shirtless. A lot.
Behind the scenes:
Film trivia:
Brad Pitt straight up couldn't get a London accent down, which is why he was cast as Mickey. C'mon, Brad. It's not that hard. Just stop saying the letter T.
The Assassination of Jesse James by the Coward Robert Ford
One of the biggest emotional rollercoasters of all time, pretty much. This film puts the 'tense' in 'intense'. By the time you're done reading the title the film is over, but that's fine because you won't mind starting it from the beginning again. It will have you on edge EVERY time.
Behind the scenes:
Film trivia:
Brad Pitt has stated that this is his favourite film to have acted in. And we're all for playing favourites.