Top 10: Cameron Diaz
CamD was just 22 when she kickstarted her big movie career. Since then, she's racked up mega award noms, celebrity status and protagonist roles in some seriously unforgettable (not always in a good way…) films.
From terrorising orphans in Annie, to drunkenly marrying Ashton Kutcher in What Happens in Vegas or double whammy-ing with Tom Cruise in Vanilla Sky and the regrettable Knight and Day, you gotta give it to her, even in shit films, she gives it her all.
In no particular order, here's our top 10 picks…
There's Something About Mary
Hey, is that hair gel? Starring as Mary, the high school crush of Ted Stroehmann, Cameron earned herself a Golden Globe nom for her comedic performance in this cult favourite. After killing his own dream prom date by trapping, erm, himself into his zipper, Ted hires Pat Healy to find Mary so that he can try again. Also, for some reason, Mary's mate is Lee Evans. We dunno.
Her Best Quote:
"Who needs him? I've got a vibrator!"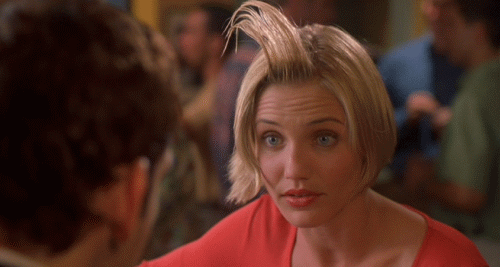 Charlie's Angels
Let's be honest, this film is so underrated, it makes us weep. Teaming up with Drew Barrymore and Lucy Liu for the reboot of the 1970s TV series, this trio of badass bitches go all detective for their elusive boss, Charlie, who we think might be a Borrower that lives inside that speaker thing. This comedy saw Cam go from geeky clown to sexy diver to James Bond in a low-cut wetsuit, and we're not gonna lie, we're there for it. What about Charlie's Angel 2, y'say? Yeah… that one's best forgotten.
Her Best Quote:
"I signed that release form, so you can just feel free to stick things in my slot."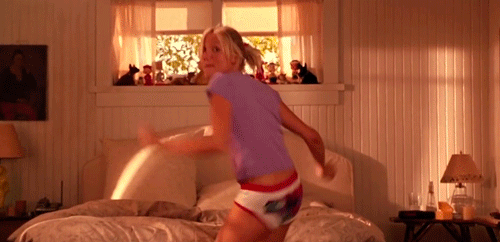 Bad Teacher
Alright, this film was a serious flop, but we just loved seeing Cam step away from those saccharine rom-coms as Elizabeth Halsey, a lazy, inappropriate teacher who's trying to get money for a boob job. She smokes pot, hates her students, sleeps at her desk, nurses massive hangovers and plots to steal the boyfriend of a colleague. #TeacherGoals
Her Best Quote:
"I tell you what I know; a kid who wears the same gymnastics sweatshirt three days a week isn't getting laid until he's 29."
My Best Friend's Wedding
Cam may not have been the lead here, but she supports Julia Robert's Julianne Potter to perfection. Kimmy Wallace is Julianne's best friend's fiance, and through her naive, girl-next-door, sunshine attitude, deep down Kimmy's deeply in love with her husband to be, but most importantly, really shit at karaoke.
Her Best Quote:
"He's got you on a pedestal and me in his arms."
The Holiday
Girl loves herself a rom com. This one may not have done so well with the critics but on 1st December, we'll be pressing play on this Christmas Cam fave without a doubt. Starring as Amanda Woods, a work-obsessed LA director, she swaps the Hollywood Hills for a tiny cottage in Surrey whilst Iris Simpkins moves into her manse. Obviously she falls in love with Iris' brother, 'cause Jude Law.
Her Best Quote:
"I need some peace and quiet… or whatever it is people go away for."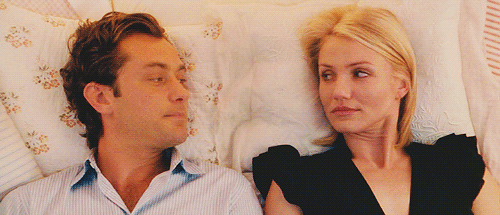 The Other Woman
So, look, this one isn't the best (again) but if it's a trio of attainable girl power you're looking for – Charlie's Angels is great but who really wants to deal with all that shit? – then this is a good'un. Cameron, as Carly Whitten, finds out that her boyfriend is married, and rather than slay him on Facebook like everyone else, she teams up with his wife to bring him down. When they find out that he's also cheating on them with Kate Upton, shit goes down.
Her Best Quote:
"You screw me, I screw you back. I'm a lady like that."
Shrek
Swapping her Cali, sun-kissed skin for a greener flesh, Cam voiced Princess Fiona, the woman cursed to turn into an ogre at sunset each day. After being saved by Shrek, another ogre – handy coincidence, considering they seem to be the only two ogres in all of the land if you forget about Shrek 4 which we're desperately trying to do – she falls in love with him and runs out of her wedding to miniature, dictator king. Talk about slim pickings.
Her Best Quote:
"By night one way, by day another. Thus shall be the norm. 'till you receive true love's kiss, then take love's true form."
The Mask
This was Cameron's first ever feature film, starring opposite Mr Elastic Face, Jim Carrey. As Tina Carlyle, she is the object of shy and timid Stanley Ipkiss' affections. However, as Stanley puts on a wooden mask he found, he turns into a brazen, green-faced massive dick, basically. Using his newfound confidence, he tries to win over Tina, the seductive Coco Bongo Club dancer who would actually prefer him without a weird green face.
Her Best Quote:
"It was the guy inside the mask. It was you all along. You, Stanley Ip… kiss."
Gangs of New York
This Oscar award-winning gritty drama set in the slums of NY tells the story of the gangs, mob bosses and local thieves. Cameron, as Jenny Everdeane, stars as a pickpocket and con artist, catches the eye of Amsterdam Vallon. She plans on escaping their neighbourhood to San Francisco, and after he gets injured, urges Amsterdam to join her. Obv, there was still some rom, but at least she dropped the com for a bit.
Her Best Quote:
"When I was twelve years old, my mother was dead, and I was livin' in a doorway. He took me in. Took care of me, in his way. After they cut out the baby… well, he doesn't fancy girls that's scarred up. But you might as well know in your own mind that he never laid a hand on me until I asked him to."
Being John Malkovich
This twisted fantasy saw Cameron as Lotte Schwartz, the wife of Craig. Lotte is eccentric, obsessed with pets and totally enchanted by the alternate realm that is the mind of John Malkovich. Not only was this Oscar nominated three times but Cameron got herself yet another Golden Globes nod.
Her Best Quote:
"I think it's kinda sexy that John Malkovich has a portal, y'know, sort of like, it's like, like he has a vagina. It's sort of vaginal, y'know, like he has a, he has a penis AND a vagina. I mean, it's sort of like… Malkovich's… feminine side. I like that."