Top 10: Colin Firth
Almost as much of quivering Brit as his frequent co-star, Hugh Grant, Colin has a bit more of a 'no sex please, we're British' vibe going on. But whatever, we love him anyway. He's bagged Oscars, BAFTAs and got himself a star on the Hollywood Walk of Fame, going from Brit Pack boy to Academy Award winner, all since the release of his first feature film, Another Country, in 1984.
Colin, you are bae. So, in no particular order, here's our very own top ten…
Bridget Jones's Diary
Possibly his most notable role as a stick up the backside love interest, Colin starred in all three of the Bridget Jones films as Mark Darcy opposite Renee Zellweger as Bridget. As the leading lady's crush, boyfriend, frenemy and childhood friend (she ran around his garden naked, y'know), he gets her out of all manner of scrapes; he even saved her from actual prison, and most importantly, he loves her just the way she is. Sure, he's dull as a magnolia piece of cardboard but at least he's loyal…
His Best Quote:
"I don't think you're an idiot at all. I mean, there are elements of the ridiculous about you. Your mother's pretty interesting. And you really are an appallingly bad public speaker. And, um, you tend to let whatever's in your head come out of your mouth without much consideration of the consequences… But, the thing is, um, what I'm trying to say, very inarticulately, is that, um, in fact, perhaps appearances, I like you, very much. Just as you are."
The King's Speech
This one got him the Oscar, and rightly so. Colin plays future King George VI; basic prince, man with stammer and plain ol' dad of the future longest reigning British monarch of all time. No biggie, get over yourself mate. Anyway, George enlists the help of Lionel Lodge, an Aussie speech therapist played by Geoffrey Rush, who helps him overcome his stutter by shouting f*ck a few times. As his brother abdicates, it's over to G-Unit to make his first radio broadcast by declaring the war on Germany.
His Best Quote:
"Every monarch in history has succeeded someone who is dead, or just about to be. My predecessor's not only alive, but very much so. Bloody mess. Can't even give them a Christmas speech."
Love Actually
Is he a bit of a wet lettuce in this one? Maybe. Is him trying to speak Portuguese one of our favourite bits? Definitely. Starring as Jamie, the recently cheated on writer who pops over to France to finish writing what sounds like a pretty shit book, he meets Aurélia (Lúcia Moniz), a Portuguese housekeeper who leaps into an icy, eel-infested lake to save pages of Jamie's book, like the babe she is. Obv, they fall in love.
His Best Quote:
"(In Portuguese) Beautiful Aurelia, I've come here with a view of asking you to marriage me. I know I seems an insane person – because I hardly knows you – but sometimes things are so transparency, they don't need evidential proof. And I will inhabit here, or you can inhabit with me in England."
Mamma Mia
In this massive musical based on the long-running West End production, Colin plays the now gay ex-boyfriend of Donna (Meryl Streep). He arrives on the Greek island where Donna has spent years running a hotel with her daughter, Sophie (Amanda Seyfried). Together with two other men, including Pierce Brosnan who reckons he can sing, he is secretly invited to Sophie's wedding as she tries to find out which of them is her dad. Seems legit.
His Best Quote:
"Bugger."
Tinker Tailor Soldier Spy
This espionage film set during the Cold War is based on the '74 John le Carré novel and stars Colin as Bill Haydon aka 'Tailor', the deputy to Percy Alleline's (Toby Jones) chief, aka 'Tinker'. Together with 'Soldier', 'Beggarman' and 'Poorman', but sadly not 'Spy', are obtaining highly sensitive info from the Soviet Union in secret operation nattily named 'Witchcraft'…
His Best Quote:
"As I said, you may fuck me but you still have to call me 'Sir' in the morning."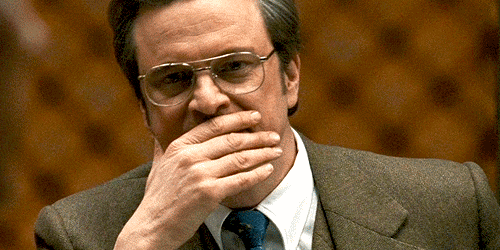 Kingsman: The Secret Service
Colin stars as Harry Hart who takes under his wing the son of a dead comrade who is for some reason called Eggsy. Harry recruits him into the top secret alliance before posing as a billionaire to have dinner with another billionaire because that's what billionaires, and fake billionaires, like to do. They both put tracers onto each other and we find out that the real billionaire is giving away free SIM cards that cause people to become uncontrollably violent which seems so f*cking extra. Anyway, there's a fight to the death, Harry massacres almost an entire church-full of people and reigns as absolute boss. Until he doesn't.
His Best Quote:
"The suit is the modern gentleman's armour. The Kingsmen are the new knights."
Girl With a Pearl Earring
Based on the novel by Tracy Chevalier, this film sees Colin as Johannes Vermeer, Dutchman and OG complicated, moody hipster artist, who does a little known painting that you've probably never even heard of… Long story short, Griet (Scarlett Johansson) works as Vermeer's maid, and when some guy asks Vermeer if he can have her, Johannes compromises by painting a picture of her instead.
His Best Quote:
Catharina: "Why don't you paint me?
Vermeer: "Because you don't understand.
Shakespeare in Love
Romcom meets period drama here, as Colin plays Lord Wessex, betrothed to Viola (Gwyneth Paltrow) who is actually in love with big man, Bill Shakespeare. Wessex bets £50 (alright, baller) that Shakespeare can't write a play that captures true love and Queen Elizabeth I declares that she'll be the judge, because presumably she didn't have anything else going on. When Shakespeare writes Romeo and Juliet, Wessex is a bit gutted and has to give the fifty quid over, but then he gets to marry Viola, so every cloud…
His Best Quote:
"My lady, the tide waits for no man, but I swear it would wait for you."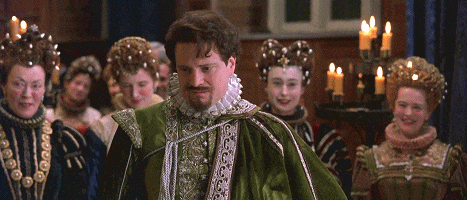 A Single Man
Colin received an Oscar nom for this one… A Single Man is based on the Christopher Isherwood novel and sees George Falconer, a middle aged gay man who is grieving following the death of his partner of 16 years. With plans to kill himself, he begins to look at little things differently, believing them to be the last time he'll ever see them. Colin smashes it in this one, and looks bloody dapper throughout.
His Best Quote:
"Go to London. Change your life. And if you're not happy being a woman, stop acting like one."
The English Patient
Colin stars as Geoffrey Clifton in this WWII film following a critically burned man who is eventually identified as Count László de Almásy (Ralph Fiennes). Almásy falls in love with Katharine (Kristin Scott Thomas), Geoffrey's wife, which, reasonably, The Geoff Man doesn't take too kindly to. In what is perhaps slightly over the top, he decides to crash a plane carrying his wife into Almásy…
His Best Quote:
"Why are you people so threatened by a woman?"