Top 10: Danny DeVito
Oh, Danny boy… Danny DeVito was a part of everybody's childhood, and if he wasn't for you it's not too late. From Matilda, to The Lorax, to L.A. Confidential, Danny DeVito has never let us down. He's always teaching us about life, and being cute AF while he does. So, to celebrate, we've compiled a list of our top 10 fave Danny films, in no particular order…
Batman Returns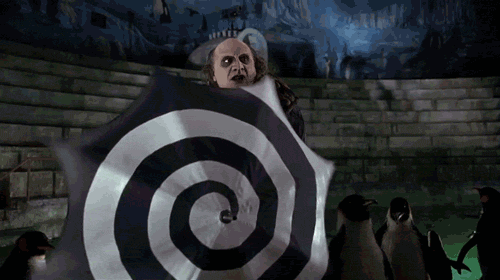 Plot:
Batman left, but now he's returning. Selina Kyle is just your regular ole shy single girl, until cats eat her and transform into the super hot Catwoman. Catwoman joins forces with Penguin and a corrupt business man to finally destroy Batman. Because that's worked out so well every time before.
Danny's character:
Get ready for #SadBackstory time! Rejected by his parents, Ditched and left to be raised by penguins in the zoo (how did nobody notice?). Surprise, surprise, he ends up hating literally everyone, and wants to kill all humans. Including Batman.
Best quote:
"Why is there always someone who brings eggs and tomatoes to a speech?"
Hercules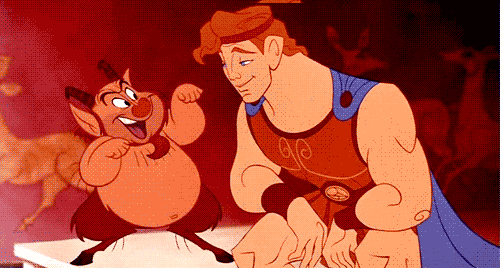 Plot:
Zero to hero, and who'da thunk? Zeus' underworld bro is real jelly of him, so he steals his baby. As one does. Hades ditches Hercules on Earth, where a couple find him and take him in. He is crazy swole, but also crazy awkward. He doesn't really fit in and nobody likes him. Haters gon' hate. Hercules sets out on a quest to become the greatest hero ever, to become a legend, to rejoin his family in the clouds.
Danny's character:
Philoctetes, Phil, half man, half… that one guy from Narnia. You know the one. He's the person(?) who makes Hercules step up his game and get his ass in gear. He trained all the greats. Odysseus, Perseus, Theseus. (A lot of "yusses"), but none of them could go the distance. He sings a lot.
Best quote:
"Giving up is for rookies. I came back because I'm not quitting on ya. I'm willing to go the distance. How about you?"
The Lorax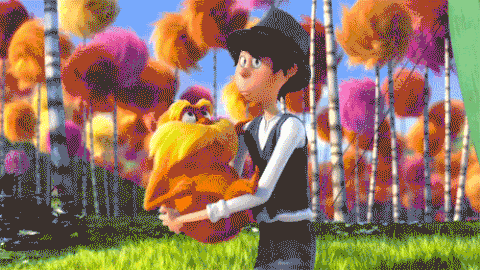 Plot:
Thneedville is empty of flowers, trees, and happiness. The citizens have to pay for air, and everything is run by a super greedy white man (sound familiar?). The girl Ted fancies, stuck up Taylor Swift who can't come to the phone right now, says the only way he can win her heart is by getting her a tree. So, obviously, he sets out to find a tree… and when he does, he gets consumed by the money the trees can make him. Bit by bit, he starts to destroy the last of nature. Idiot.
Danny's character:
The Lorax himself – he just wants to protect nature and all his friends! He's the wisest… uh… whatever he is around. Speaker for the trees, defender of the grass, he is someone we all need in our lives.
Best quote:
"A tree falls in the way it leans. Be careful which way you lean."
Matilda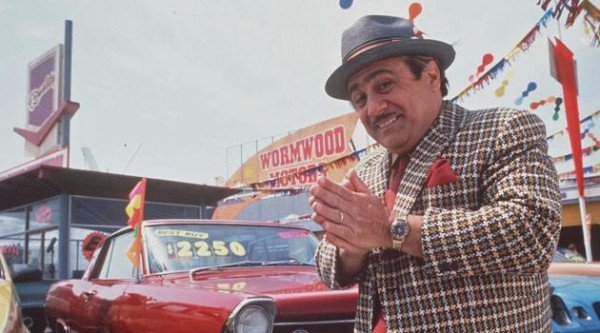 Plot:
Young girl loves to read so much that the power of books give her the power of telekinesis. Her family is literally the worst and they send her to your average American school, one which is run by the evil Mrs Trunchbull who locks kids in chokeys and hates fun. Matilda is about to change things up, though. You go, gurl.
Danny's character:
Mr. Wormwood, Matilda's criminal father who cons people for a living. He's, like, always on the brink of exploding. His moustache needs to try harder.
Best quote: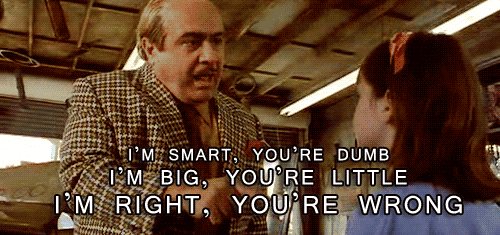 One Flew Over the Cuckoo's Nest
Plot:
Get the tissues out. Randle is transferred from prison to a psychiatric ward, which he thinks will be a walk in the park, but is actually secret level of Hell number 10. The psychiatric ward is run more like a torture chamber, and every inch of it is hiding a dark secret. Spooky.
Danny's character:
Martini doesn't really know how to play any game created ever but at least he will try and that's what counts. He's kept in the psychiatric ward to be confined to a life of repetition, enclosure, and overall sadness.
Best quote:
"Stop being such a d*ck, Randle." … okay, so maybe he didn't say that, but he should've.
L.A. Confidential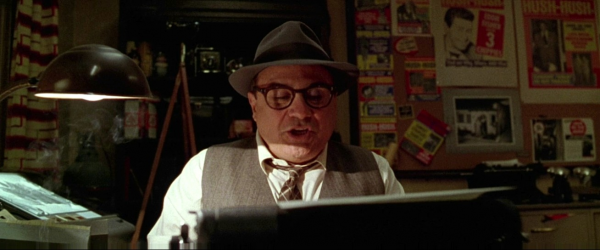 Plot:
A cynical detective who basically just cannot be trusted, a young but ambitious rookie officer with the skills of a born politician (yeah, he sucks), and a brutal veteran cop with some SERIOUS anger management issues are forced to team up. It gets worse. A mass murder in a cafe brings a plot to control organised crime in the city out of the shadows, and we're all at least a little scared. These mismatched cops set out on a journey that takes them places nobody really wants to go. Also, Russell Crowe is in it so you know shit's about to go down.
Danny's character:
The reporter, the narrator. Practically the least shadiest person here. At least he's doing his job. At least he's doing his best.
Best quote:
"Something has to be done – but nothing too original, because, hey, this is Hollywood."
Space Jam
Plot:
Theme parks are actually owned by evil aliens. Who knew, right? This particular evil alien needs a new attraction, and what could possibly be better than Bugs Bunny? He sends his people to kidnap him, but Bugs manages to convince them to play a game of basketball to win back his freedom. Suddenly realising he doesn't know how to play (real clever) he seeks the help of his friends and Michael Jordan. Just your average day, basically.
Danny's character:
The evil green thing (probably from all the smoking, tbh), Swackhammer. His minions become stronger than him, and he gets what he deserves. Yaay. (Spoilers don't count anymore. At this point, if you haven't seen it we're all judging you)
Best quote:
"Wait'll I get you back on Moron Mountain!"
Wise Guys
Plot:
Two top dumbasses lose a whole lotta money that belongs to the Mob, and without realising it they both agree to kill the other. #FriendshipGoals. When they find out, their instinct is to run. (Should've thought of that to begin with, but ok…) It's a lovely moral tale all about not killing one another and spending other people's money.
Danny's character:
Harry Valentini, the one with the big ideas that get them in trouble. He's a little slow when it comes to realising someone is trying to kill him and just laughs it off when he finds out. Ha ha, we're both trying to kill each other! What a funny coincidence!
Best quote:
*While in a bathroom* "Golden brown Knishes. Mmm. Can you smell 'em Moe, huh? Can you? Can you smell 'em?"
Twins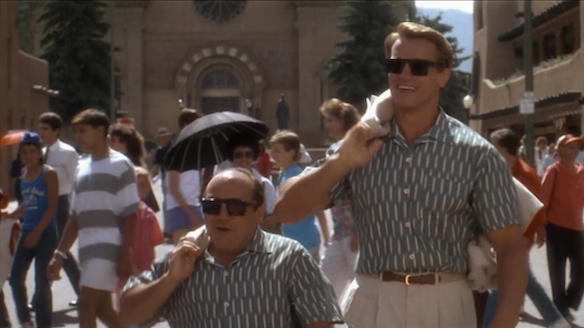 Plot:
Obviously, it was like looking into a mirror. Twins separated at birth are brought together when the physically strong, handsome, practically perfect in every way (but, y'know, kinda dopey) Arnold Schwarzenegger discovers he has a brother and goes off to find him – only to see that he's a womanizer, a crook, and short. Absolutely ridic.
Danny's character:
The tall, strong, and handsome one.
Best quote:
"That's the problem. There's no trust in the world anymore."
The Virgin Suicides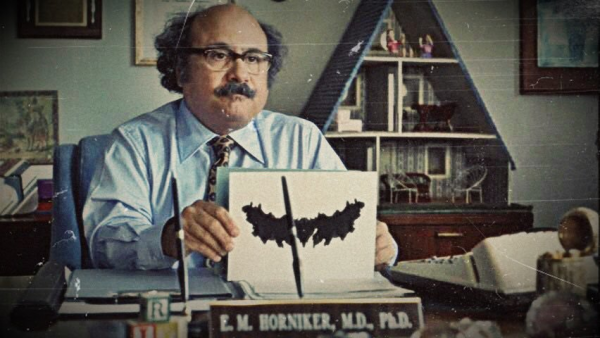 Plot:
A group of boys become obsessed with a group of girls, and 100% invade their privacy. Their lives are controlled by their strict, religious parents who seriously need to take a chill pill. The parents agree for all the girls to go to homecoming, and at the party at least 50 rules are broken and things spiral way out of control.
Danny's character:
The doctor who analyses Cecilia. He's in the film for all of five minutes, but it's an important one to mention. He's the only one who actually calls the parents out on their shit.
Quote:
"You need to stop being so f*cking overprotective and let your five beautiful kids breathe. Psychos." … He might not have said that either, but everyone was thinking it.