Top 10: Drew Barrymore
The sweetest queen of rom-coms is here to help you not realise how much ice-cream you're eating and use up all those tissues that have really just been taking up space in your room… Thanks bae.
To show our appreciation for all the hours we've spent having faith in humanity because of her, we put together a list of all of our fave DB films.
In no particular order…
Never Been Kissed
Drew's role:
A reporter-slash-bonafide-kissing-expert with a mission — to infiltrate a high school and make an article that reminds everyone of, like, the worst time in their life. Fun. We don't know how she gets in (did they not check ID in the 90s?) but she does, and ends up falling for her English teacher (join the club, boo).
We love…
UHHHHH that dress made out of shiny pink bin bags, obvi.
Scream
Drew's role:
The whole 10 seconds she's in it give us life. (Just stop answering the phone, girl!) She's the disposable person at the beginning of every horror film who dies just for the sake of it, and she does the best job ever. (Run, Drew, RUN!) To be fair, she was probably a drug-addicted alcoholic who wasn't a virgin. Also she'll be right back. (According to Randy) #Yikes.
We love…
This behind the scenes shot.
Blended
Drew's role:
A mother just trying to chill for a bit with her family in Africa but some guy won't leave her tf alone (#relatable) — but it's okay tho, 'cause he's kinda sweet. She's back at it again with her most recent Adam Sandler gift to the universe, and it's effing hilarious. With rogue ostriches and Terry Crews' abs, it's time to let yourself enjoy things again.
We love…
"The bush pig has lost his parents so it is been cared for by mama and papa lion. Even in nature, there are blended families." – Mfana, the tour guide that spoke too soon, 'cause the lions immediately try to eat the pig. The quote is pretty cute out of context, tho, right?
Donnie Darko
Drew's role:
The English teacher who is wise and foreshadowy AF. We all wish our teachers had let us sit next to whoever we found cute so that the dimension traveller could take over our lives and kill us and switch lives with us in another dimension. Or something like that.
We love…
Cellar doors.
The Wedding Singer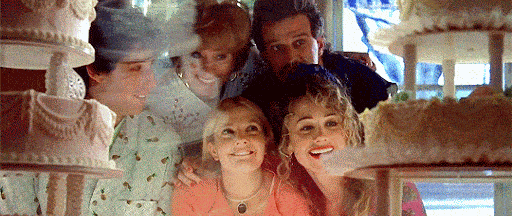 Drew's role:
The reason why you always pick a Spotify playlist over a live band. She's getting married to someone who doesn't know what's about to hit 'em — Adam Sandler with arguably the worst hairstyle since ever (like, at least Cousin It's hair had that healthy shine…). As always, Queen DB is ready to be cute and lovable and flawless.
We love…
This soundtrack gem.
#SameAdamSame
E.T. Extra Terrestrial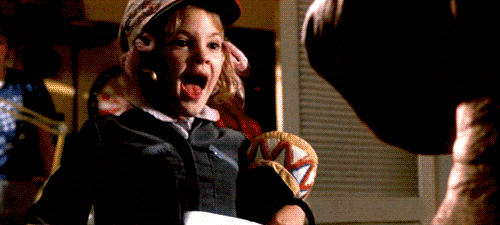 Drew's role:
Even little baby Drew screaming her lungs out is cuter than your average puppy (was that too far? Woah there, Rooftop. Bold statement!). Gertie is one of the mega lucky kids who found our buddy E.T. and helped him WhatsApp home. We swoon EVERY time she gives him that pot of flowers.
We love…
"Beeeeee… gooood…" – The Extra Terrestrial, E.T. In that order.
Whip It
Drew's role:
What ISN'T her role in this? Directed by, produced by, AND starring the infamous DrewDrop, she's literally everything. EVERYTHING. Smashley Simpson (we know, right?) is here to show off her epic roller derby skills (a totally underrated sport that's metal as heck) and give us all the #GirlPowah vibes.
We love…
50 First Dates
Drew's role:
The cute marine life lover who suffers from short-term memory loss. A guy with mad waffle-house making skills gets her to fall in love with him every single day and ends up winning all of our hearts in the process. Just when you think nobody will ever meet your expectations and you'll be forever alone, Adam Sandler is ready to raise the bar even higher each and every time.
We love…
"So every day you help her to realise what happened and you wait patiently for her to be okay with it… then you get her to fall in love with you again?" – Literally everyone wishing someone would be that devoted to them.
Ever After
Drew's role:
Things are about to get magical. Drewbarryella is Cinderella in this super dazzling version unlike any other. Set way back in the day in France, Danielle's father passes away and is left alone with her two stepsisters and stepmother, who all turn out to be evil. Didn't see that coming. Don't worry tho, a dreamy French Prince of Bel Air is juuuuust around the corner.
We love…
"If you suffer your people to be ill-educated, and their manners corrupted from infancy, and then punish them for those crimes to which their first education disposed them, what else is to be concluded, sire, but that you first make thieves and then punish them?"
Charlie's Angels
Drew's role:
Drew, the drop-dead gorg Angel who's ready to kick ass and steal hearts. If you haven't learnt to not trust any character Sam Rockwell plays yet, you'll figure it out soon enough when he kidnaps this queen and she has to fight her way out. It's okay tho, 'cause she can handle herself with some seriously awesome moves (she can beat us up ANYTIME).
We love…
"I'll have three burgers, three french-fries and three cherry pies. What do you guys want?"
Bonus:
You're welcome.