Top 10: Helena Bonham Carter
In a world of haters, ask yourself what would Helena Bonham Carter do… the indisputable queen of quirkiness has been teaching us that sometimes going completely off the rails (and killing a few people on the way) are the only movie characters worth cheering for. Here's a list of 10 quintessential HBC films:
Room With A View
19-year-old Helen Bonham Carter gives a flawless performance in the E.M. Forster period drama starring as Lucy Honeychurch,  a young woman stifled by the overbearing values of Edwardian England. Elegant and wistful, she gives us a prelude of the uncompromising female characters she'll play in the future.
Best quote:
"Mother doesn't like me playing Beethoven. She says I'm always peevish afterwards."
Frankenstein
Helena gets to play the Doc's incestuous love interest (don't judge, the Lannister twins weren't any better) and her story arc is way more spine-chilling than that of Victor and his pet monster.
Best quote:
"Promise? Promise? Oh, don't dare use that word to me!"
Conversations With Other Women
HBC and Aaron Eckhart star in an indie gem chronicling a poignant love affair. The split-screen action brings out the intense bond of the couple and reimagines romantic drama. Yay for the lead actress for not being another dizzy blond!
Best quote:
"The illusion of effortlessness requires a great effort indeed."
The King's Speech
Colin Firth might have won the Oscar for Best Actor for portraying Britain's King George VI, but Ms. Carter is what gives the movie zest and a dash of peculiar humor proving that behind every great man is a greater woman rolling her eyes.
Best quote:
"My husband has mechanical difficulties with his speech."
Les Miserables
It's hard to imagine how the movie would look like without HBC's miserably entertaining performance. As part of a powerhouse cast, she also gets to show off her impressive singing pipes and make Madame Thénardier a despicably iconic character. I mean what would Cinderella be without her evil stepmother?
Best quote:
"Enough of that, or I'll forget to be nice! You heard me ask for something, And I never ask twice!"" 
The Corpse Bride
Despite playing an animated anti-heroine who was murdered, Helena Bonham Carter brings her character to life. Say hi to Emily, a zombie bride who abducts a soon-to-be groom and brings him to the underworld. Is it wrong that we prefer scattered-brained Emily to level-headed Victoria?
Best quote:
"Tell me my dear, can a heart still break once it's stopped beating?"
Alice In Wonderland
Hey, again Game of Thrones fans! The only Red Queen worth mentioning is the one played by Helena. In Tim Burton's movie version, she carries an abnormally large head, wears a heart lipstick, and is so hilariously insane one cannot help but wish the movie and its sequel had a not so perfect ending.
Best quote:
"I can't explain myself … because I'm not myself" (Don't shoot! We know this is an Alice quote but it's also the one that helped HBC during her split with Tim Burton soooo get on with it!!!)
Harry Potter Series
The performance of Helena as the remorseless, bat-shit crazy evil witch Bellatrix Lestrange is one of the best villain character depictions we've ever seen on the big screen. Is it the cackle, the messy hairdo, the deadly hilarious one-liners? It's everything!
Best quote:
"Well, well, well, look what we have here. It's Harry Potter. He's all bright, and shiny, and new again, just in time for the Dark Lord."
Sweeney Todd: The Devil Barber Of Fleet Street
I'll bring the meat, you'll make the pie? Johnny Depp and Helena Bonham Carter might very well be the most twisted couple ever conceived in this dystopian fairytale, and we absolutely can't get enough of them! The fact that HBC can sing devilishly good is one more reason why she's an all-around badass.
Best quote:
"Hold it! Bless my eyes – Fresh supplies."
Fight Club
Call me sexy, call me crazy, call me Marla Singer! Her character in the 90's cult movie is like that punch in the stomach you wish it never stopped hurting. No one could stand beside Brand Pitt and Edward Norton and carry the plot with such hair-raising ease.
Best quote:
"Candystripe a cancer ward, it's not my problem."
Bonus: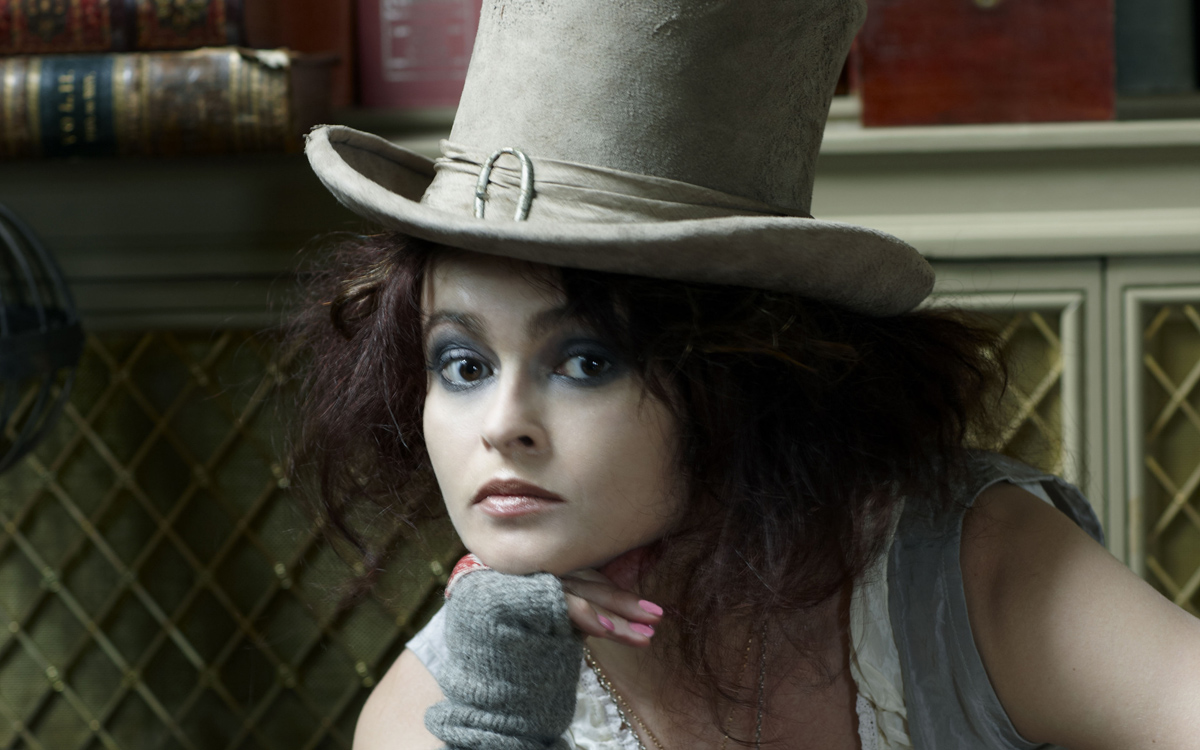 HBC has been a wildcard, an outsider, a feminist long before it was cool to be one. Here's a final quote from our favourite femme étrange:
"Imperfection is underrated, perfection is completely overrated."