The World's Best Open Air Cinemas That Aren't Us…
As much as we'd like to tell you that we're the best open air cinema in the whole massive world, we've got some serious competition. From stunning, natural surroundings to jaw dropping skylines to unusual locations, here's a huge high five to the other guys who've taken the movies al fresco. It's just a shame for them that we are the best…
Cinespia Cemetery Screenings, Los Angeles
The massive movie star Mickey Rooney goes to this outdoor cinema! Well actually, he sort of lives there. Alright, fine, he's buried there. But that's the sort of shit you have to deal with if you want to see amazing movies in one of LA's most iconic spots… They have DJs before and after the screenings and encourage viewers to take picnics and cosy up under the stars. Cemetery and chill, anyone?
Sala Montjuïc, Barcelona
For a 14th season, this cinema is pitching up at Montjuic Castle which is set away and up a bit from the city so the skyline views are muy cray cray. The castle itself once served as a military fortress in 1640 but who literally cares when they're screening films like Pride and Thelma & Louise 500 years later. As if Barcelona wasn't amazing enough with its crazy gothic architecture, love for gin and never-ending unbuilt cathedral.
La Villette Cinema En Plein Air, Paris
What do the French do best? Food. Alright, and wine. And being in love without being all awkward. And berets with breton stripes. And riding bikes with baguettes sticking out the basket. Fine, they're great at loads but food is the best, because bread and cheese. So this cinema, who have a theme each season, is going all out with cuisine this year. Last year was all about costumes. On the large green of La Villette, les parisiens l'adorent!
Red Rocks Amphitheatre, Colorado
This venue plays host to concerts, massive yoga sessions and a seriously impressive open air cinema that looks out over Denver's Rockies. It's been running for 18 seasons to over 60,000 people for showings of cult favourites like Deadpool which is almost certainly what they had in mind when they built it in 1906 – there was a prophecy that Ryan Reynolds would bring the LOLs to next century's masses. Maybe.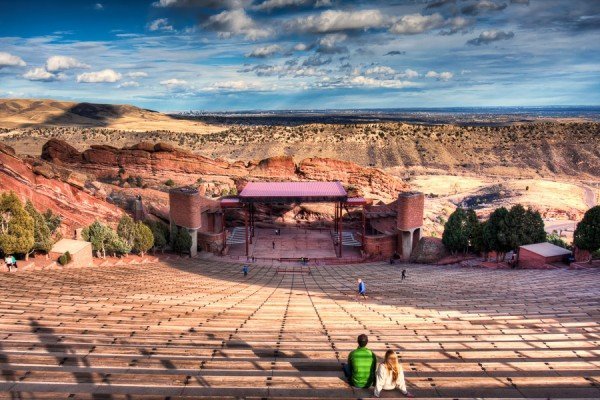 St. George Open Air Cinema, Sydney
The backdrop to this harbour-side cinema is so picture perfect that Team RFC had an extensive discussion over whether it could even be real. After much deliberation we came to the conclusion of: holy shit, it's actually there in the water in front of actual Sydney actual Opera House. Show offs. There's more too with a view of Harbour Bridge and the city skyline so if you're not Snapchatting this the whole time then you're doing it wrong. The screen's propped up in the water at Mrs Macquaries Point, across from the Royal Botanic Gardens and they fill the seats up with 1500 people a night for a season of pretty much brand new films.
Cine Thisio, Athens
We'd argue that it almost doesn't even matter what you're watching here because the view across the Acropolis is so Insta-worthy, you'll be snapping away before you can say #nofilter. This theatre, established in 1935, is the oldest in Athens, and despite its distracting views of the Parthenon shining under the moonlight tempting the audience to look everywhere but the screen, it actually plays some total classics so eyes will probably be firmly fixed.
Maple Drive In Cinema, Beijing
For those of you who don't get enough of a 50s Grease vibe from Beijing and you're desperate to get your Travolta on will love this Chinese drive in. Established in '98, this was the first cinema in the country that invited you and your car along, and it's open til late, like really late. Surrounded by trees, if you're parked up in a 4×4 we can't promise you won't get Jurassic Park vibes, in which case, do NOT run to the toilet.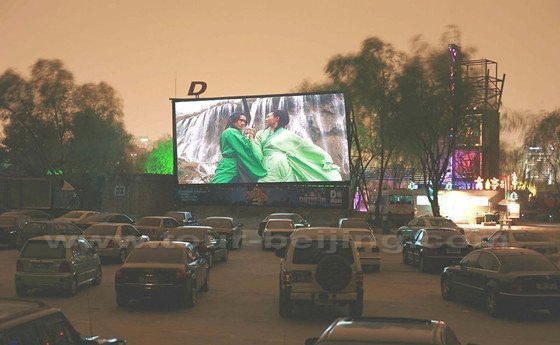 Vivo Open Air, Brasilia
This open air festival is the actual largest outdoor movie event in the whole flipping world which probably explains why it's so bloody popular. Its screen is the size of a tennis court and the views across Paranoá Lake are shit hot, man. They also play music and serve up loads of food before and after the screenings, which are usually pretty on point; hello E.T.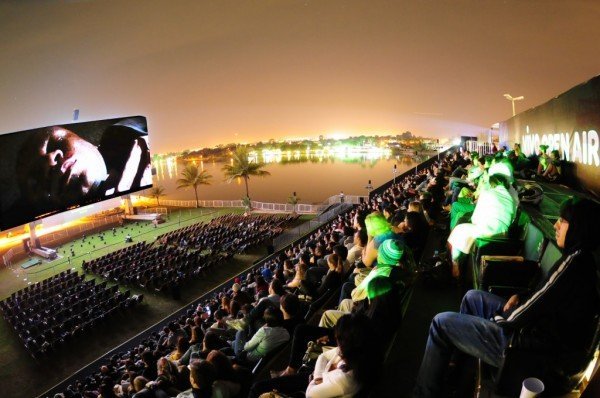 Mirage City Cinema, Sharjah
This one is cool but you've gotta buy into the concept, which is basically maximum relaxation. They've been inspired by the historic traditions of the local areas, particularly with scattered carpets that have been thrown all over the place like some Aladdin reject prop shop; this is because carpets were traditionally used for sleeping on rooftops, something which is pretty much never done because everyone's chucked air con units on them instead. Anyway, the space itself is fragmented to give the idea of projected sound disorienting the audience into a surreal sound cave. The project aims to promote the idea of sleep, dream and memory so if you're one of those people who spends a whole film rewinding it back a bit because you dozed off, this is the perfect setting for you.
Riviera Maya Film Festival, Mexico
If you've ever wondered what it'd be like to lay back on a beach in Cancun or Tulum to watch a film surrounded by beautiful landscapes then this independent film festival is literally the only place you should head to. Setting up on the beaches of Playa del Carmen, Puerto Morelos and Isla Mujeres, chuck a towel down, sip some tequila and enjoy the movie; this is some serious beach-side relaxing.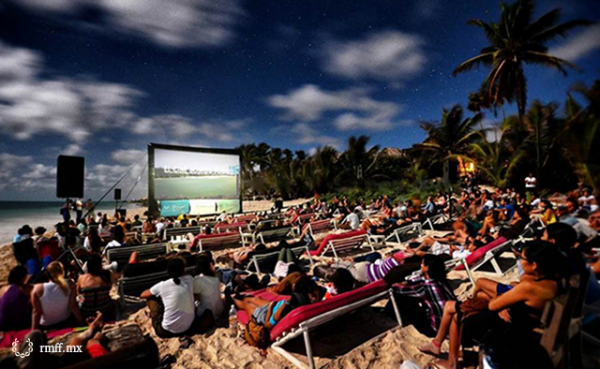 Moonlight Cinema, Various Locations, Australia
Australia is pretty much bursting at the seams (or whatever the country equivalent of seams is… borders?) with outdoor cinemas but this one reckons it's Oz's favourite. It's probably right, to be fair. Setting up in Sydney, Melbourne, Adelaide, Perth, Brisbane and Port Douglas, they've picked some of the country's most iconic city green spaces to pop their screens in.