The ultimate film experience
Here at Rooftop Film Club we believe that all experiences should be memorable, which is why we are on a mission to transform nights at the movies to cinematic events like no other. You bring your friends and loved ones, and we'll bring you city skylines, sunsets, starlit evenings, awesome drinks, delicious food, and great movies on the big screen. Driven by our love of film, our venues promise a handpicked curation of cults, classics, and new releases. No matter where you find us - on a rooftop or at the drive-in, we stand for social cinema because we believe it's the future.

In light of recent times, Drive In Film Club has been on hand to provide a safe and contact-free cinema experience in London. It's a slightly different experience to our rooftop setup, so be sure to check the drive-in venue pages to find out how it differs.
Spectacular views
Great films deserve great locations, and our venues are set alongside some of the most iconic city backdrops around the world. With panoramic views and stunning sunsets, movies have never looked so great.
Incredible Sound
We believe iconic movies and great dialogue deserves to be heard properly. Ever missed that key plot-line because the guy behind you is eating his popcorn too loudly? At our rooftop venues, we use state-of-the-art wireless headphones so you can live in those memorable cinematic moments, and not get disturbed by the outside world. At our drive-in venues, films will no longer be broadcast via your car radio. Instead, upon arrival, you will receive a personal digital speaker. These are wirelessly set up, tuned in and ready to go.
Comfy Deckchairs
Outdoor cinema is about embracing the world around us, but that doesn't mean it has to be uncomfortable. Which is why we use comfy deckchairs at our rooftop venues with adjustable seat heights, meaning you can lean back and breathe in those city views under the stars. At Drive In Film Club: To ensure safety at our drive-in venues, we ask you to remain seated in the comfort of your own vehicle.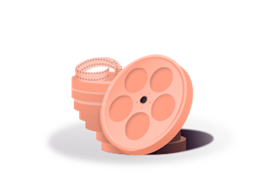 Iconic Movies
Looking for that perfect movie? Our programme is hand-picked with a personal touch, to ensure each night is an unforgettable movie experience from cult classics to brand new releases. We love our movie themes too, whether its double bills or celebrations, so look out for Rooftop Recommends.
View The Programme