The ultimate film experience
Here at Rooftop Film Club we believe that all experiences should be memorable, which is why we are on a mission to transform nights at the movies to cinematic events like no other. You bring your friends and loved ones, and we'll bring you city skylines, sunsets, starlit evenings, awesome drinks, delicious food, and great movies on the big screen. Driven by our love of film, our venues promise a handpicked curation of cults, classics, and new releases. We stand for social cinema because we believe film is best experienced... together.
Spectacular views
Great films deserve great locations, and our venues are set alongside some of the most iconic city backdrops around the world. With panoramic views and stunning sunsets, movies have never looked so great.
Incredible Sound
We believe iconic movies and great dialogue deserves to be heard properly. Ever missed that key plot-line because the guy behind you is eating his popcorn too loudly? At our rooftop venues, we use state-of-the-art wireless headphones so you can live in those memorable cinematic moments, and not get disturbed by the outside world.
Comfy Deckchairs
Outdoor cinema is about embracing the world around us, but that doesn't mean it has to be uncomfortable. Which is why we use comfy deckchairs at our rooftop venues with adjustable seat heights, meaning you can lean back and breathe in those city views under the stars. This year, we're levelling up on cosiness & have decked out the lounge seats with brand new pillows.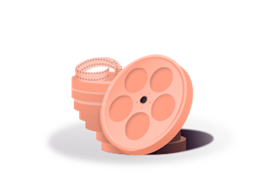 Not Just a Movie
Our programme is hand-picked with a personal touch, to ensure each night is an unforgettable movie experience from cult classics to brand new releases. We also like to throw in special series to celebrate our fave genres & themes, as well as special events where we really go the extra mile to transport you to tinsel town - keep an eye on special icons throughout the programme to find out more.
View The Programme