Spectacular views
Great films deserve great locations, and our venues are set alongside some of the most iconic city backdrops around the world. With panoramic views and stunning sunsets, movies have never looked so great.
Incredible Sound
We believe iconic movies and great dialogue deserves to be heard properly. Ever missed that key plot-line because the guy behind you is eating his popcorn too loudly? At the Bussey Building and Queen of Hoxton we use state-of-the-art wireless headphones so you can live in those memorable cinematic moments, and not get disturbed by the outside world. At Roof East we use amplified speakers so that you can feel every moment.
Comfy Deckchairs
Outdoor cinema is about embracing the world around us, but that doesn't mean it has to be uncomfortable. Which is why we use comfy deckchairs with adjustable seat heights, meaning you can lean back and breathe in those city views under the stars. Please note the Queen of Hoxton is Director Chairs.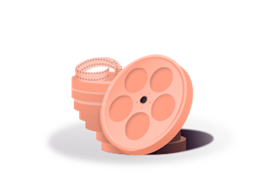 Iconic Movies
Looking for that perfect movie? Our programme is hand-picked with a personal touch, to ensure each night is an unforgettable movie experience from cult classics to brand new releases. We love our movie themes too, whether its double bills or celebrations, so look out for Rooftop Recommends.
View The Programme